Prince George's Crocs Are the Latest Reason Everyone Still Loves Royals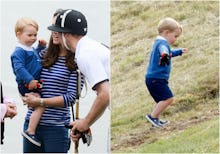 For the Duchess of Cambridge to remind us she's just a normal mom, skinny jeans typically do the trick.
But Crocs? That just takes things to the next level.
Prince George capped off his very public weekend with a playdate at the  Beaufort Polo Club, romping around like any regular toddler while his dad played polo (OK, a little less regular) and his mother watched on. On the little prince's body? A stately blue cardigan, a pair of shorts and some cute little navy slip-on shoes that, upon further inspection, turned out to be Crocs.
Crocs on a future king? It's just the latest way the royals quietly signal to the rest of the world how non-royal — and likable — they are, a major appeal since the day Will started dating Kate. And a 2013 survey conducted by the Telegraph found the Duchess of Cambridge to be the single most popular figure in the royal family. Her marriage to Prince William and George's birth have kept that support up, as the public views her as just the right combination of glamorous and relatable.
Clothing is no small part of that. From the beginning, thrilling as the glamorous trappings of royal life are, the public's always more thrilled to see the princess in skinny jeans, bathing suits, rain boots and ponytails. 
Digging up old photos of Kate in Uggs and sequin minidresses is an even bigger thrill — a reminder that even the most long-running celebrity family is full of (relatively) regular people with regular affinities for sexy "going out" clothes and comfortable footwear.
And no one can get away with comfy shoes more than the little Prince George. As the media's been quick to note, Crocs like Georgie's typically run just $30 a pop. Flexible, durable and easy to clean, little Crocs are a favorite of regular moms everywhere, even as they're loathed for adults.
They'll only be more beloved now that George has worn them. Proving that the "Duchess Effect" also applies to toddler monarchs, the Daily Mail reports that the Crocs worn by George on Sunday have sold out in a size 2 on the company's U.K. website. And pparently, Americans are just as enthusiastic: