Real-Life 'Zoolander' Model Just Said He Gets Fashion Inspiration From Homeless People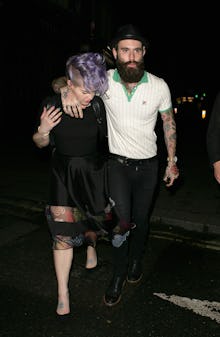 British fashion model Ricki Hall has earned himself comparisons to the lead character from the movie Zoolander after he shared his style inspiration in an interview with the Sunday Times Magazine, published Sunday:
"I take style tips from everything, even kids and homeless people. They can pull anything together and it just works."
The article was part of a "day in the life" article where Hall, who has modeled for Diesel and Kooples and also earned some attention by dating Kelly Osbourne, shared his morning routine with readers. Among the revelations: He wears "size 8 ladies' running pants" and he once lost 1,500 Instagram followers when he painted his nails black. (He currently has about 365,000 followers.)
But the highlight was the tone-deafness of Hall's remarks on the homeless, which the Sunday Times Magazine called out (likely knowing they had a viral gem on their hands), and Twitter was quick to jump in. Being homeless isn't an aesthetic, users reminded Hall:
Comparisons to Zoolander were also immediate, as readers conflated the movie's narcissistic and dim-witted male model lead, played by Ben Stiller, with Mugatu, the tone-deaf fashion designer played by Will Ferrell who recruits Zoolander to be the face of his new line, Derelicte.
"It is a fashion, a very way of life inspired by the homeless, the vagrants, the crack whores, that make this wonderful city so unique," declares Mugatu, whose character was a thinly-veiled parody of real-life designer John Galliano.
Galliano, of course, actually did create a fashion collection inspired by the homeless. In 2000, the British-born designer sent models covered in newspaper dresses down runway, channeling "the French homeless as well as the mentally ill in Diane Arbus photos," reported the New York Times. 
That "aesthetic" somehow proved appealing for several years. "Homeless chic" was a full-blown trend by 2010, with designers like Vivienne Westwood showcasing models pushing grocery carts down the runway, according to Jezebel.
Both Galliano's and Westwood's collections were widely viewed as tasteless. Yet misperceptions that alternately glamorize and stigmatize homeless people, who face countless stereotypes that reduce them as human beings, persist in and outside the fashion industry.
For what it's worth, Hall took to Twitter to say that he'd been misquoted, but didn't directly reference the homeless comments. 
The one thing Hall did take issue with in the interview? Don't call him a "hipster."