6 Amazing Things That People Still Refuse to See About Miley Cyrus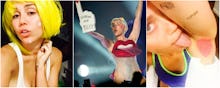 When Miley Cyrus graced the pages of Paper magazine last week, the public response was swift and, at times, wildly petty. Cyrus posed fully nude. She has splashes of neon body paint covering her body. In the cover shot, she is splattered with mud and smiling while hugging her pet pig, Bubba Sue. Her photos are creative and carefree. And throughout her interview, Miley proves to be insightful. However, you wouldn't know it from some of the reactions.
The website Superficial claimed the photos were "child porn." Christian blogger Ken Ham wrote they were a "rebellion against God." The Twitterverse was out in full force too, with many users variously calling her "gross," "insane," "disgusting," "trashy" and "dumb."
These attacks are absurd. The basis for shaming is clear — people believe that sexuality is dangerous, that women are objects and that female bodies are scandalous; that exposing your body somehow mutes your voice. 
One Tumblr page called uhhhhgg perfectly takes down the haters. The page points out the numerous commendable causes Cyrus stands for. It ends in irony by offering a summary of the public's reaction: "but she's naked a lot and smokes weed. just another child star turned train wreck if you ask me." Too few people see past the images of Cyrus to the truth of the matter: She's one of the most honest and innovative social advocates we have. Here are seven heroic facts about Miley the Tumblr post outlines:
1. "Donates large amounts of money to charity"
Cyrus is widely considered one of the most charitable musicians, next only to Taylor Swift. Last November, Cyrus donated half a million dollars to AIDS research at a gala in Los Angeles. Her 20th birthday party was a fundraising event for a dog rescue organization.
She's quick to point out her own advantage as a wealthy pop star, and how it motivates her to give back: "I can't drive by in my fucking Porsche and not fucking do something," she told Paper. "How the fuck is that fair? How am I so lucky?"
2. "Is huge supporter of LGBTQ rights"
Cyrus is on the front lines in the fight against LGBTQ discrimination, and she is, according to her own admission, gender- and sex-fluid. Instead of hiding behind her fame, Cyrus is doing something incredible with her power: speaking out again and again on behalf of the silenced LGBTQ youth and organizing on their behalf. She's hyper-vocal in her support of LGBTQ rights and puts her money where her mouth is. She actually built an organization from the ground up to help homeless LGBTQ youth, the Happy Hippie Foundation.
Perhaps her greatest contribution, though, is her willingness to speak about her own experience. She told Paper the story of how she came out as bisexual to her mother: 
"I remember telling [her mother] I admire women in a different way. And she asked me what that meant. And I said, I love them. I love them like I love boys. And it was so hard for her to understand. She didn't want me to be judged and she didn't want me to go to hell. But she believes in me more than she believes in any god. I just asked for her to accept me. And she has."
3. "Starts a charity for homeless youth"
In early May, Cyrus started an organization called the Happy Hippie Foundation, which raises money and awareness for homeless youth. The foundation focuses especially on those homeless youth who are LGBT, because 40% of homeless kids in the U.S. are LGBT, according to the organization's website.
"The foundation treats at-risk kids with art and animal therapies, two proven balms that have been instrumental in Cyrus' own self-care," Paper wrote. "Happy Hippie is designed as a corrective to what Cyrus understands as immoral politicking, the sort that pits outliers as pariahs and favors an archaic status quo."
Cyrus' interest in helping the homeless first became public in 2014, when she sent Jesse Helt, a 22-year-old homeless California man, to collect her award at the MTV VMAs. Some called it a publicity stunt, but it was really an attempt to raise awareness, to give the homeless a voice. He's since gone to prison for violating his probation, but Cyrus is allegedly helping to pay his legal fees.
4. "Doesn't want to be defined by a gender or sexuality"
When Cyrus launched Happy Hippie, she sat down with Out magazine to discuss the organization, but she also said during the interview that she's gender-fluid. "I didn't want to be a boy," she told Out. "I kind of wanted to be nothing. I don't relate to what people would say defines a girl or a boy, and I think that's what I had to understand: Being a girl isn't what I hate, it's the box that I get put into."
In her Paper magazine interview, she elaborated on her gender fluidity.
"I am literally open to every single thing that is consenting and doesn't involve an animal and everyone is of age," she said. "Everything that's legal, I'm down with. ... I don't relate to being boy or girl, and I don't have to have my partner relate to boy or girl.'"
On Monday, she even launched a two-week Instagram campaign, #InstaPride, to bring visibility and support to "transgender and gender expansive people from around the country."
5. "Posts photos showing her zits and making weird faces to show her fans that everyone has imperfections"
Cyrus frequently posts Instagram selfies that are unflattering but totally honest. Plus, she shares advice on how she's dealt with her skincare problems in the hopes of helping people who find themselves in the same situation. The selfies are an admirable, simple way for Cyrus both to connect with her fans and to help them improve their lives. More than anything, they're a reminder that even the most seemingly perfect pop stars are humans.
6. "Fights for women's rights and is a part of the #freethenipple campaign"
Cyrus is one of the foremost stars speaking out about feminism and helping the movement shed its unnecessary stigma. 
"I feel like I'm one of the biggest feminists in the world because I tell women to not be scared of anything," Cyrus told BBC Radio 1's Newsbeat, according to Marie Claire UK. "There's absolutely no contradiction at all between being a feminist and taking your clothes off and being comfortable about displaying your sexuality. I'm for anybody and anything, I don't care what you want to do, what you want to look like."
With that, she's also fighting to defeat the stigma surrounding female nipples as part of the Free the Nipple campaign. Last December, Cyrus posted a topless photo with the hashtag #FreeTheNipple to Instagram, a platform that takes down photos of nipples in a practice that many consider sexist. Cyrus has over 22 million Instagram followers, and she makes quite an impact when she speaks to them.
7. "But she's naked a lot and smokes weed, just another child star turned train wreck" 
Much of the initial criticism of Cyrus started just after her infamous VMA performance, which upset parents who felt like they lost a role model for their children. But that's completely unfair; Cyrus never claimed the role, and she's just a person growing up on the national stage. Part of Cyrus's growing up includes Instagrams of her smoking weed and exploring her performance of her sexuality, but that's just evidence of her earnest engagement with the issues she cares about. Cyrus is doing good in the world, and she knows that's her goal.
"When you have all eyes on you, what are you saying?" she told the Associated Press. "It's like, I know you're going to look at me more if my breasts are out, so look at me. And then I'm going to tell you about my foundation for an hour and totally hustle you." 
Again and again, she's used her platform and attention for good alone. People need to give her the credit she's due.