Dave Chappelle Just Had the Perfect Response to the Rachel Dolezal NAACP Scandal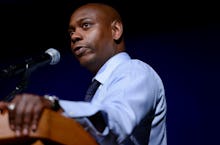 At a high school commencement speech Sunday at the Duke Ellington School for the Arts, comedian Dave Chappelle gave the best response yet to the still-unfolding case of Rachel Dolezal.
"There's a white lady posing as a black lady," he said, according to the Washington Post. "There is not one thing that woman accomplished that she couldn't have done as a white woman. There's no reason! She just needed the braids! I don't know what she was doing."
Dolezal, the president of the Spokane, Washington, chapter of the NAACP, exploded headlines Friday after revelations that she was born white and lied about being African-American for years. The controversy drew a flurry of condemnation and curiosity from media, with the NAACP ultimately backing Dolezal, citing her "advocacy record." 
At Ellington, Chappelle's own alma mater, the comedian proved once again that he's not just a funnyman, but also an insightful commentator on race and identity.
Chappelle, who built his career around hilarious and often cutting racial commentary on Comedy Central's Chappelle's Show, said he found the case of Dolezal to be "ridiculous." While the comedian's remarks could be interpreted as a jab at Dolezal's white privilege, Chappelle withheld judgement, telling his audience he would rather wait for her eventual response, which he expected to be "illuminating." Until then, he urged the media to exhibit caution:
"There's something that's very nuanced, where she's highlighting the difference between personal feeling and what's construct, as far as racism is concerned. I don't know what her agenda is, but there's an emotional context for black people when they see her and white people when they see her. There's a lot of feelings that are going to come out behind what's happening with this lady."
The complex emotions surrounding the Dolezal case are a perfect venue for a comedian who has not been shy in the past about confronting the delicate politics of race in America. Chappelle's reflections on his own humor likely played a role in the star's departure from Comedy Central and a reported $50 million contract from the network. The comedian told Time magazine in 2005 that he was uncomfortable when a white visitor laughed a little too long and a little too loud at one of his sketches. 
"When he laughed, it made me uncomfortable," Chappelle told Time. "As a matter of fact, that was the last thing I shot before I told myself I gotta take [fucking] time out after this. Because my head almost exploded."
There's another important side to the Dolezal story too, and that's Dolezal's. After noting the absurdity of the situation, Chappelle was correct to refrain from personal judgement and joke-telling at her expense. Sooner or later, she will have to address the media and offer her critics a rationale for her behavior. A brief interview Dolezal gave to SkyNews reaffirming her identity is not enough. When she does offer a fuller explanation, as Chappelle said, it will very likely be illuminating. 
h/t Salon