'How a Baby Is Made' Might Be the Most Explicit Children's Book We've Ever Seen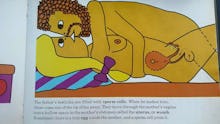 If your experience in sex education left you with lingering questions as to how a baby is made, then you may want to flip through the 1975 children's book titled, well, How a Baby Is Made.
Things start out relatively tame, like any other children's book, with the parents standing together for first-page introductions. But as in real life, shit gets real quickly: They're naked on page two and doing it missionary style by page three.
The book, by Danish writer and therapist Per Holm Knudsen, was published back in the 1970s but is enjoying a viral renaissance since a Facebook user uploaded pictures of its contents to the site on June 10. Turns out it's an Internet favorite, rediscovered in 2010 by Jezebel, and has also been used as an educational "artifact" in the Kinsey Institute Library and Special Collections, according to associate curator Garry Milius. (One twenty-something informed Mic that her parents actually left the book on her nightstand as a prelude to the sex talk she was going to get at school.)
As an 1970s artifact, the book reflects the sexual revolution of the time. But the book is about more than sex; its real objective was to shed light on the basics of human reproduction — which, as you'll notice over the course of the next few pages, involve being naked almost all the time.
The clothes come on, though, when it's hospital time.
And then childbirth happens.
This no-bullshit approach to teaching kids about reproduction may seem a little graphic, but the sentiment behind it is pretty badass — and it's not surprising that the brains of the book is Scandinavian. Denmark is home to many advocates for progressive sex education, with one Danish professor recently voicing his support for showing porn in the classroom and a Danish nonprofit currently aiming to neutralize pregnancy panic by portraying it in a more positive light. In nearby Sweden, children's TV has even gone so far as to include dancing genitals into sex-education programming.
With sexual education consistently failing to fully educate kids in America, it would be great if young people could start learning from children's books that depict nudity in a shame-free light — and which make it very (very!) clear that when a P goes into a V, creating a B is a likely result. And, you know, that you won't necessarily die.
Taken in that light, How a Baby Is Made might even be a candidate for required reading for sexual education for all ages. It's too bad brand new copies are currently going for $2,496.01 on Amazon.
h/t BuzzFeed