12 Women Speak Out on the Lack of Female Performers at Bonnaroo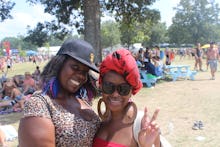 We need to talk about gender representation at music festivals. 
Though men and women show up in relatively even numbers at music festivals, the artists they're supporting aren't offered the same opportunity. Music festival lineups skew heavily male, especially when it comes to headliners. This year's Bonnaroo was no exception. If you were to cut all the male-led acts from the bill, as the following graphic created by She Knows does, you'd see just how bad it is:
This isn't exactly a deliberate choice made by festival organizers to silence female voices; it's just indicative of a broader problem. "The men of power who are in this industry have this internalized, institutionalized sexism," pop culture expert Evelyn McDonnell told Salon. "They see men as having economic power and therefore get billed."
It's time to change that. Some of the most memorable acts of the festival were female-led, such as Florence and the Machine and Alabama Shakes. The crowd at Against Me!'s show knew every single word to frontwoman Laura Jane Grace's female and trans empowering lyrics. 
"Rock 'n' roll as a whole should try to be more like that — fans, festivals, promoters should try to support artists from all sides of the gender spectrum," Grace told Mic. 
Here's what the attendees have to say:
1. Claire
2. Olivia
3. Ivanna
4. Emmalei
6. Bonnie
7. Leka
8. Christine
9. Rachael
10. Megan, pictured left
11. Ciara
12. Mallory