'Orange Is the New Black' Reveals a Kind of Relationship We Can't Help Rooting for on TV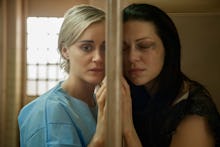 Piper Chapman and Alex Vause are clearly not made for each other. The Orange Is the New Black pair, played by Taylor Schilling and Laura Prepon, respectively, are drawn together in Litchfield Penitentiary. Yet they can't help but screw each other over every time they're not screwing.
So their hot and heavy reunion in the early episodes of the third season should have been repulsive. It involved slapping, name-calling and hair-pulling. Yet it was completely irresistible.
Alex and Piper are just the latest example of a TV phenomenon: the couple with an unhealthy relationship you can't resist. In the realm of common sense, Piper should stay far away from her former lover who put her in prison. Even though she's no longer cheating on out-of-the-picture husband Larry (Jason Biggs), the two still manage to hurt each other deeply. But somehow, it's never that easy.
The same could be said for the following four couples, who prove that shipping is a dangerous game. They've kept us cheering long after it was clear they shouldn't stay together — damn all better instincts.
Warning: Spoilers ahead.
Olivia and Fitz on Scandal
Is there any couple in TV history — maybe even in real-life history — as in love while being disastrously matched as Olivia Pope (Kerry Washington) and Fitzgerald Grant (Tony Goldwyn)? She's a crisis manager with a passion for red wine and dramatic monologues. He's the president of the United States who likes to have everything he wants. Together, they give fans scenes of scorching sexuality and incredibly hostile arguments.
"Earn me!" she screams at him. "I belong to you!" he screams at her. These two need a good therapist and lessons on how to communicate with your lover. On the other hand, remember when they screwed in a closet? That was pretty hot, no matter how filthy that feels to admit.
Carrie and Big on Sex and the City
Sex and the City is a cautionary tale about what it means to put stock in soulmates. Carrie Bradshaw (Sarah Jessica Parker) wants to know Mr. Big (Chris Noth) is the right man for her. Unfortunately, he's not interested in settling down — a fact he makes clear to her early on and she can never quite change.
The show went back a little bit on the darker message by having the two fall in love and marry by the end of the series. Big got Carrie'd away despite their different goals in life. It's a rare case of one of these couples finding a happy ending and giving the shippers what they want.
Patrick and Kevin on Looking
This affair between boss (Russell Tovey as Kevin Matheson) and employee (Jonathan Groff as Patrick Murray) was never going to work. They may have had off-the-charts chemistry unlike any other couple on the show, but they had no communication skills whatsoever. They first had sex in the office — a move any good HR department would frown upon — and kept up their affair while Kevin remained with his boyfriend John.
Looking got the couple together in season two only for Kevin to reveal he wanted to try an open relationship. It was yet another instance of a couple that burns hot also flaming out too quickly. When Patrick couldn't stand the suggestion of Kevin having sex with other men, they broke up.
Cookie and Lucious on Empire
Cookie (Taraji P. Henson) and her ex-husband Lucious (Terrence Howard) of the Lyon family don't exactly bring out the best in each other. She undermines him in business and in his personal life, constantly tempting him out of his relationship with his new girlfriend Anika Calhoun (Grace Gealey). But Cookie and Lucious have history. They built the Lyon empire together from nothing, and they're drawn together by sexual and emotional magnetism.
This makes it all the harder when Cookie double crosses Lucious and tries to take over Empire Entertainment as he gets locked behind bars. Whether their love is doomed now that she's taken him down will have to wait until season two, but one thing's for sure: You can't keep a lion caged for long.