Hawaii Is Turning a Fleet of Old Buses Into a Brilliant Solution to Fight Homelessness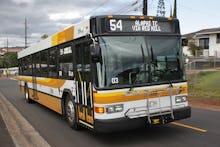 Hawaii's biggest city has an innovative solution to one of its most overlooked problems.
Honolulu is planning on turning five retired city buses into a fleet of mobile shelters for the homeless, potentially providing a stop-gap alternative to sleeping on the sidewalk and waiting in long lines for basic services for hundreds or even thousands of homeless people a year.
According to KITV, the buses are functional but have been removed from city service due to their mileage. Each of the buses will be retrofitted for a specific purpose; they're designed to work in tandem with each other, with some of the converted vehicles containing hygienic facilities like restrooms and others providing beds. 
Hawaii News Now reports architecture firm Group 70 International is running the plan in coordination with Honolulu's executive director of housing, Jun Yang. The organizers plan to have two of the buses finished and ready for operations during the summer, with a total of five buses running by the end of the year.
"We're fitting some out to be bathrooms and showers, we're fitting some out to be sleeping areas, and the design completely folds away like a little Japanese tatami mat," Group 70 International's Ma Ry Kim told Hawaii News Now. "It's completely organic, and we when we started did not even realize, No. 1, what a need there was for this, and No. 2, how people can benefit from it ... but mostly how many people want to help."
Services like these are desperately needed in Hawaii, which has the highest homelessness rate of any state in the union. According to 2013 data from the U.S. Department of Housing and Urban Development and 2010 U.S. Census data compiled by the Washington Post, Hawaii had 465 homeless people for every 100,000 residents, followed by New York at 399 per 100,000 and California at 367 per 100,000.
Why it matters: In a state where housing costs are sky-high, the homeless are often shuffled out of tourist areas with unaffordable tickets and a legislator actually took to the streets in 2013 to smash homeless persons' shopping cars with a sledgehammer, the innovative bus program is a big step in the right direction. Changing attitudes towards the homeless can reap impressive results.
The Huffington Post reports by ditching oppressive rules and meeting their homeless residents halfway, the Next Step shelter in Kakaako has cut down on the high vacancy rates at other Hawaii shelters. Since it actually costs significantly less money to provide the homeless with services like free housing or medical care instead of waiting for them to go to the emergency room or get arrested by the police, projects like the bus conversion are a fiscally responsible move by the city of Honolulu as well.
More converted buses, less stigmatization of the less fortunate, please.
h/t Huffington Post