Here's What We Thought We Knew About Sex — Until We Actually Tried It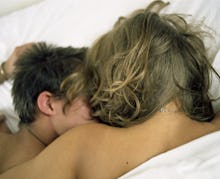 Maybe sex will feel like warm apple pie. Maybe blow jobs are pretty much like sucking on a carrot. 
Before we "do the deed," we make a lot of assumptions. And even once we do get "sexually active," those early awkward, fumbling experiences aren't a great reflection on what it will always be like. That's what happened to Brody Jenner, who recently told GQ that his first time giving oral sex was "traumatic."
"The first time I ever went down on a girl, I was fairly young — like 14, 15," Jenner, who has a new E! show coming out called Sex with Brody (yes, really), told GQ: 
"It smelled terrible, I'm not gonna lie. It was honestly the most traumatic experience for me. After that, basically I said that I'm never gonna do that ever again in my life."
Of course, that changed. "Later on in life, I tried it again and was like, 'Oh, this is totally different than the first time,'" Jenner said. "So I think maybe the first misconception was that it smelled like that on every girl. That's definitely not the case."
In a society with notoriously limited sex education, a lack of frank communication and pop culture and porn that only perpetuate unrealistic expectations, we've all had misconceptions that were only toppled by experience. So Mic conducted an informal survey to ask what (mostly straight) millennials thought about sex before — and after— they actually had it. Here are their anonymous answers:
1. It's not always going to be a smooth ride.
The expectation: 
"I thought sex would be much smoother — not so much jamming things in places and kinda pushing at awkward times and out of sync." — Male, 26
"I thought I could last more than five minutes." — Male, 28
The reality: 
"Much more stopping and starting and recalibrating than you ever imagine." — Female, 26
"I can't last more than five minutes." — Male, 28
2. Sex doesn't need to hurt. In fact, it shouldn't.
The expectation: 
"I thought it had to hurt." — Female, 19
"I thought sex would be really painful because I couldn't comprehend how penises could fit into a tiny hole." — Female, 21
The reality: 
"Well, it did hurt the first couple of times. It wasn't until I was with my current partner (about one to two years later) that I found sex pleasurable, and that was because he took the time to figure out my anatomy. SO important!" – Female, 19
"I realized that sex needs some kind of foreplay and prior attraction for it to not only be pain free, but enjoyable. I only really enjoy sex that had a lead up to, in combination with it being with someone that I liked — either physically, emotionally or both." — Female, 21
3. No, you don't always have an orgasm.
The expectation: 
"I thought faking orgasms was just a myth." — Male, 26
"It would be an incredible experience, just like porn really and I'd always get to orgasm as a woman." — Female, 21
The reality: 
"I realized, after the 20th time of making my high school girlfriend have an earth-shattering orgasm at the precise moment that I also came, that she was probably not actually getting off. I never confronted her about it, and I tried to be a more attentive lover afterwards, but we broke up before we could talk openly about it." — Male, 26
"You don't always orgasm, often men find it difficult to achieve that despite regular sex with a partner." — Female, 21
4. Sex can be about more than just the physical parts.
The expectation: 
"I thought my boyfriend would 'do me and dump me' because I was overweight and had low self-esteem at the time. I think my 'friends' at the time convinced me he was going out with me to get sex." — Female, 25
The reality: 
"We've been together for almost 11 years, so I must be doing something right." — Female, 25
5. But sometimes, it's really just about the physical connection. 
The expectation: 
"I assumed it would be way more intimate than it is. I assumed it would have more meaning." — Female, 25
The reality: 
"I learned that you just have to feel comfortable with yourself to enjoy it. Forget the other person; make sure you yourself are confident and able to enjoy it." — Female, 25
6. Oral sex isn't so simple — for both penises and vaginas.
The expectation: 
"I thought giving oral sex to a girl would be similar to when a girl gave me head. I also thought I would last longer than I do." — Male, 26
"I assumed that oral was the be all end all for women and spent way more time than is normal trying to learn cunnilingus (having no one to practice on mind you). Now my current girlfriend (going on four years) enjoys the occasional oral but only really gets off from penetrative sex (fingers, penis, whatever)." — Male, 27
The reality: 
"I learned lots about my own body and paying attention to signals that I feel and that I see in the girl I'm having sex with. Love going down on girls now." — Male, 26
"Turns out everyone is different. Also from my limited experience with other women, the hardest part of cunnilingus is not necessarily finding the technique that works for her, but keeping her body still so you can continue to hit the same point." — Male, 27
7. Sex can get a little (or a lot) messy.
The expectation: 
"I had no idea about the immediate after effects: wet patch, peeing, wiping up all the cum." — Female, 18
The reality: 
"Um ... if a guy ejaculates inside you then the semen trickles out a few minutes later ... It just never occurred to me. Gravity." — Female, 30
8. It's nothing like what you see on TV.
The expectation: 
"I only thought you can only have sex in three positions: missionary, girl on top and doggy style because that's all they showed in sex scenes in films (not porn)." — Male, 21
The reality: 
"I learned that having sex is a journey for you and your partner(s). It's all about the mood and it's very important for you and them to be on the same page." — Male, 21
"You need to communicate explicitly with your partner." — Female, 18
9. It doesn't need to last long to be fantastic.
The expectation: 
"I thought it would last longer, and I thought I would cry afterwards and be forever attached to the guy." — Female, 29
The reality: 
"It was awkward and short lived, but I did feel closer to the guy (but not eternally attached)." — Female, 29