Rachel Dolezal, Former NAACP Leader, Sued Howard University for Racial Discrimination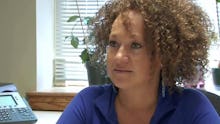 On Monday, evidence emerged that former NAACP official Rachel Dolezal had previously filed a lawsuit against Howard University for discriminating against her because, according to Dolezal, she was not black. 
In the 2002 suit, Dolezal, who was then known as Rachel Moore, claimed the university had unfairly passed over her for appointment as a teaching assistant and denied her a post-graduate instructorship, Smoking Gun reported. The suit, which named the school and professor Alfred Smith as defendants, specifically "claimed discrimination based on race, pregnancy, family responsibilities and gender," and argued Howard was "permeated with discriminatory intimidation, ridicule and insult."
The suit also argued the school removed a number of pieces of art Dolezal made for a student exhibition, saying the decision was "motivated by a discriminatory purpose to favor African-American students." 
The case was ultimately dismissed, and Dolezal was ordered to pay the university more than $3,500 in related court costs.
Dolezal, who had been president of the NAACP chapter in Spokane, Washington, made headlines over the weekend after news broke she had been misrepresenting herself as a black woman for years. The revelations took the Internet by storm after an interview with local media in Spokane. Despite a statement of support by the NAACP, Dolezal stepped aside as president of the Spokane chapter Monday after a blizzard of condemnation and head-scratching from the media and activists nationwide.
Many of the questions that have been raised in the past few days revolved around whether Dolezal truly believed herself to be a black person. However, as the 2002 lawsuit demonstrated, she appears to not have always held such a staunch belief about her own ethnicity.