Butts on the Runway Don't Even Shock Us Anymore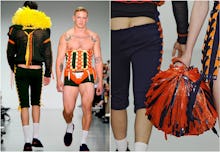 The male models walking the runway for London-based brand Sibling had an surprise for show attendees on Saturday: a peek at their behinds.
Upon turning at the end of the catwalk, some of the models displayed cut-outs at the top of their pants that left their bums exposed for all to see. 
The thinking behind the butt crack, the designers hinted to Dazed and Confused's Trey Taylor backstage, was to bring a touch of liberated playfulness to the male body, eroticizing an element of the male body that normally doesn't get a lot of attention. 
But on fashion runways, nudity — for men and women, of every and all body parts — is actually becoming increasingly commonplace. At Men's Fashion Week in London this week, designers Craig Green and MAN's Rory Parnell Mooney also played around with exposing the male body.
The runways of the past year have been filled with more flesh than we can remember ever seeing before, from breast-shaped bags at Lemaire's Fall 2015 show to prints featuring intertwined bodies at Christopher Kane's Fall 2015 show. Pam Hogg went nearly full-frontal for her Fall 2013 womenswear show, and Marc Jacobs sent Kendall Jenner down the runway for Fall 2014 with a see-through top that left little to the imagination.
The piece de resistance, though, was designer Rick Owens, who earned the hashtag #DickOwens in January after presenting male models with peepholes cut strategically at their crotches, displaying their penises as they made their way down the catwalk.
What do you do when you've already sent naked models down the runway? Do you keep on doing the same? Or do you do as they did at Sibling, and just tone things down with some cheek?