'Pitch Perfect 3' Confirmed — Hitting Theaters in 2017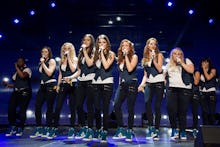 She may have sang "You're gonna miss me when I'm gone" in the original Pitch Perfect, but Anna Kendrick is making sure we won't even have to.
After weeks of rumors and unconfirmed reports, Universal finally made it official Monday that there will indeed be a Pitch Perfect 3. Star Anna Kendrick teased the news on her own Instagram account just moments before Universal confirmed, throwing up three fingers and winking in a selfie.
"Happening #3," she put simply in the caption, to an immediate flood of likes and comments squealing about the third film. Considering the enormous financial success of the sequel, Pitch Perfect 3 isn't a surprise. Hearing that Kendrick, a star on the rise with enormous potential both critically and commercially, is choosing to return is a bit more of a shock.
The second film introduced a new character, played by Hailee Steinfeld, who pledged the series' core, all-female a cappella group as its only freshman member. All the others were seniors, including Kendrick's character Beca and Rebel Wilson's character Fat Amy. Yet those two actresses are the first two confirmed to return for the threequel.
Additionally, as circulated late last week, series producer/star and director of the second film Elizabeth Banks may be busy directing an adaptation of the YA novel Red Queen. The series has switched directors before, moving on from Jason Moore, but stability is nearly always best. Hopefully, screenwriter Kay Cannon, returning for her third film, will be able to keep the ship right.
All that said, no matter what form it appears in, Pitch Perfect 3 is a net positive for Hollywood. The second film managed to win an incredibly competitive weekend at the box office while sticking to its female-first guns. (One sign of its legacy: It beat the also-feminist Mad Max: Fury Road.) If it can stick the landing and become a high-performing trilogy, it will provide all the more evidence that Hollywood should take a chance on female-led films.
Just do us a favor, Anna: Please don't sing the "Cups" song again.
Pitch Perfect 3 will be released July 21, 2017.