After 18 Years, One of the Greatest Video Games Is Getting a Remake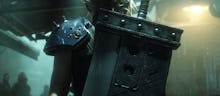 When Final Fantasy VII was released for the original PlayStation in 1997, it was hailed as a masterpiece and called one of the greatest games of all time, in reviews that were either only in print or so old they exist only on the archival Internet.
Eighteen years (and countless rumors) later, at the 2015 Electronic Entertainment Expo, Sony debuted the trailer for a full remake of Final Fantasy VII, with a nostalgic and foreboding video that sent the crowd into madness:
The trailer began with a series of motifs and scenes familiar with anyone who remembers the original game, before concluding with shots of the main characters in their modern CGI glory, with a word added: "Remake."
Even today, Final Fantasy VII is considered one of the greatest games of all time. A seminal role-playing game in the early console days, Final Fantasy VII has a serious cult following. In the first few years after its release, it sold almost 10 million copies back when the global market for games was only a fraction of what it is now.
In the '90s, the game was considered graphically stunning, with a gorgeous game world with brooding, cyberpunk and gothic art design. By comparison, here's what those graphics looked like back then:
This remake is long overdue. Final Fantasy VII spun off a series of other games and films, but unlike other games that typically wear the crown of greatest game of all time, it's never had a total makeover.
While there are no full details yet on a release date, Sony says it will be exclusively available on PlayStation 4. But as Sarah Lamotte from VG24/7 puts it, it could still be quite some time:
We honestly don't expect this one for a long time — in a press release, Square Enix said it has "begun production." Remember how it started production on Final Fantasy 15 in 2006? This one's coming to PS4 first, probably in the year 4,508 AD.
Check out the full trailer below: