Rachel Dolezal Breaks Her Silence on Live TV: 'I Identify as Black'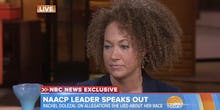 Rachel Dolezal, the white woman exposed after years of pretending she was black and former president for the NAACP Sokane, Washington, chapter who resigned Monday, broke her silence on the Today Show on Tuesday morning. When her parents were contacted by a local newspaper Thursday, they confirmed rumors that Dolezal had been lying about her race.
After being asked point blank what race she is, Dolezal told Matt Lauer she identifies as black. 
She said she's felt this way from a very young age and would portray herself as black in self-portraits, using brown crayons instead of peach. Dolezal parallels the notion of one's "authentic self" internally being at odds with physical characteristics, as is the case with transgender individuals. 
Yet Dolezal said the ordeal did not allow for a straightforward answer and her story is about much more than what race she identifies as and more about a story of "survival."
Dolezal also said her scandal helped shed light on the issue of race and what it means in America, and her duplicity ultimately revived much needed public discourse. She said she feels as though the discussion should revolve around humanity rather than ethnicity or race and her lack of transparency has helped drive this sentiment.
When Lauer asked if she uses products to enhance her narrative of being a black woman, she said, "I certainly don't stay out of the sun." When asked if she could understand how darkening her skin and pretending to be African-American could be offensive, she said, "I have a huge issue with blackface. This is not some freak Birth of a Nation performance."
Her sons, one of whom is her adopted brother who she is now the guardian of, were in the studio and Lauer inquired as to what they made of the ordeal and what race they consider their mother to be. Earlier in the interview she partially defended her decision to portray herself as black because otherwise people would not regard her as the mother of two African-American boys.
According to Dolezal, one of her sons told her he thinks she's culturally black, despite being biologically white. And that, above all, she is a human. 
At the conclusion of the interview, Lauer gave Dolezal an opportunity to express remorse by inquiring as to whether she would do it all over again if she could go back in time. Dolezal simply stated, "I would."