17 Amazing Tweets Reveal the Problem With Rachel Dolezal's "Today Show" Interview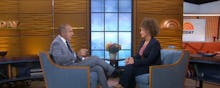 One GIF says it all.
That was the thrust of Rachel Dolezal's defense during her appearance Tuesday morning on the Today Show.
Dolezal, the former chief of the Spokane, Washington, chapter of the NAACP, appeared live with host Matt Lauer to present her case before a national audience and explain why she spent years pretending to be a black woman. 
"I was drawing self-portraits with the brown crayon instead of the peach crayon," Dolezal said during the interview. "It was a little more complex than me identifying as black."
During the interview Dolezal said while she might do a few things differently, she would overall not have changed how she self-identifies. "My life has been one of survival," she said. "And the decisions that I have made along the way have been to survive and to carry forward in my journey and life continuum."
Reaction online was swift, with many people unforgiving of Dolezal's justifications and taking to the Today Show's official #OrangeRoom hashtag to share their opinions.
Watch the full interview below: