Aziz Ansari and Jimmy Fallon Hilariously Prove Just How Bad Guys Are at Texting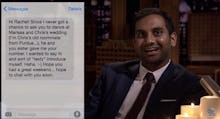 It only takes one text message to screw up a relationship.
At least, according to Aziz Ansari. Ansari joined host Jimmy Fallon on Monday night's Tonight Show  to read real viewers' texting fails to see where it all went wrong.
What were some of the worst offenders of "first textual experience"?
"I feel like he lost it when he said 'texty' introduce," Ansari said.
"Ron should have just done one proofreading session," Ansari said.
That's a lot of regret.
TL;DR, basically.
Typos are the reason we're single.
Ansari would know, as an expert on botched romance. In researching for his new book, Modern Romance, he met with focus groups, conducted extensive interviews and completed sociological research.
"A lot of people fret about the first thing I should say," Ansari told Fallon. "What we did for the book was really interesting. We looked at people's real phones. Women and men showed us their real exchanges and it was really surprising the kind of bozo texts a lot of dudes send."
Like most technological ways of flirting, texting leaves a lot of room for ambiguity and misleading. But unfortunately, texting is essential to modern dating. A 2013 survey by JDate and ChristianMingle found that up to 50% of those ages 21 to 26 report texting several times a day before going on a date. 
And the first message, as Ansari and Fallon make abundantly clear, can make or break the date. In fact, simple things like using proper grammar (oh, Ron!) and avoiding Internet lingo (oof, "texty") can up your chances of getting replies, a 2009 analysis of over 500,000 first interactions on OkCupid found. In other words, texting is the gatekeeper to a new relationship.
As linguist John McWhorter previously told Mic, mastering the flirty text today might "be as useful as someone who 'had the moves' in the old days." And if Ansari and Fallon's collection of misfired texts are any indication, today's modern daters still have quite a few moves to master. 
Watch the full clip below:
h/t Daily News