Killer Mike Announces He Will One Day Run for Office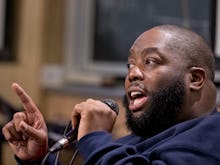 Michael Render, aka Killer Mike, has never balked from making divisive political statements. And now he's taking his political involvement to the next level. He announced he's running for a state representative seat in Georgia. After learning he couldn't this year, however, he promised he'd return to politics before long. One half of the mighty Run the Jewels may one day run Georgia.
The rapper announced his intentions to run for the vacant District 55 seat in the June 16th election via Twitter and the above Instagram, asking people to write in his name at the ballot box. Unfortunately, Georgia law requires that candidates — even write-ins — have to register.
Render won't win this cycle, but gaining office wasn't his entire goal.
"The reason why I did it, besides the fact that I think politicians need to understand that people from the regular constituencies are willing to run against them, I wanted to make people aware that the election was even happening," Render told Noisey on Monday. "A lot of times elections are lost and the hope of the public is lost because they don't turn out. So if I, as a celebrity, can get people to pay attention to the fact that there is a vote going on period, then my job is done."
Killer Mike has used his platform to provide visibility for a number of important political issues in recent years. Following Michael Brown's death in Ferguson, Missouri, he wrote an arresting op-ed for Billboard, warning the American people who were ignoring the issue unfolding there: "Whatever this country is willing to do to the least of us, it will one day do to us all."
He's appeared on CNN to discuss police brutality and given university lectures at MIT and New York University on race relations. He's taken down the racist treatment hip-hop lyrics frequently receive in our country's criminal justice system. In April he attended the White House Correspondents' Dinner. It was an incredible honor, but he couldn't savor it — violence in Baltimore broke out the same night.  
"Here I am at this lavish event," he later wrote for Billboard. "The most powerful man in the world is black, and people like him are being killed by the citizens who are paid to protect them."
Rappers' running for office has been a running joke for some time now, but Render is suited for office in a way few other entertainers are. He's attuned, politically and socially, to his constituents and the campaign he intended to run on for this special election — education, prison reform and drug policy reform — was strong.
But he's promised this isn't the last time we'll see him campaigning.
"I was genuinely overwhelmed by the amount of people who were willing to change their day around and go out to [vote]," Render told Creative Loafing. "I'm sorry that laws prevented me from doing it, but we'll be ready the next go-round. We'll be ready the right way, and we're going to give them hell."
h/t Guardian