The 7 Biggest Announcements From Nintendo's E3 Event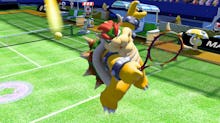 Everything old is new again at the Electronic Entertainment Expo, the "shut up and take my money!" video game event of the year. On Tuesday, Nintendo premiered a pile of new games with one dominant theme: nostalgia.
Just as Hollywood scored a record-crunching opening weekend with a brand-new Jurassic Park, a 22-year-old series, Nintendo is relying on classic characters to satisfy gamers' appetite for childhood favorites.
Here are a few of Nintendo's most exciting announcements.
1. StarFox Zero
StarFox, the scrolling first-person shooter, first premiered on Super Nintendo in 1993 but made its big impression when it came out for the Nintendo 64 in 1997. (It's also to blame for the phrase "Do a barrel roll!") At E3 2015, Nintendo's first major game announcement was StarFox Zero, which looks pretty damn similar to the '90s classic.
This time, producer PlatinumGames, which is also responsible for Infinite Space on Nintendo DS, joins the fray. "They've been making games for a very long time," Nintendo's Shigeru Miyamoto said during the expo. An added bonus: Even though the graphics are remarkably similar to older versions, the actual feel of the game gets a big upgrade. "We'd like people to play as if they're flying a real plane," Miyamoto said.
2. The Legend of Zelda: Triforce Heroes
Nintendo released another Link title, Hyrule Warriors, just last year, but it wouldn't be a true nostalgia push without a new version of Zelda. In Triforce Heroes, our hero in a green tunic is duplicated and dropped on a platform to battle in a sort of League of Legends-style fighting game. It pulls other levels and past Zelda games to expand the gameplay, but there won't be any adventures or new worlds to explore.
3. Yoshi's Woolly World
Yoshi became the unsung hero of the Mario universe when he debuted solo in Yoshi's Story for Nintendo 64. Yoshi's Woolly World, featuring a plush, knitted Yoshi, gives Yoshi's saga an upgraded aesthetic. Everything is designed to look like it's been made of yarn.
4. Fire Emblem: Fates
If you're unfamiliar with the strategy game Fire Emblem, you might recognize the characters Marth and Roy from Super Smash Bros. Melee. It's also an immersive and addictive storyline based on medieval fantasy.
5. Paper Jam
Mario's resurgence will always be a big hit during a Nintendo presentation (more on that later). But Paper Jam, a Mario and Co. themed RPG, features not only the 3-D characters but also 2-D "paper" characters, which can interact with their environments like, well, paper. They fold in half and slip into tight spaces. The gameplay is advanced, but the visuals are kid-friendly, meaning Paper Jam is tailor-made for the Nintendo 3DS crowd.
6. Mario Tennis: Ultra Smash
Like a spiky green-shelled phoenix, Mario Tennis had to return, right? After all, the Nintendo 64 version, released in 2000, was a monster hit. On Tuesday, Nintendo announced the game for Wii U, turning Mario Tennis from a sit-on-the-couch experience into an on-your-feet slam fest.
7. Super Mario Maker
Judging from fan reaction, Super Mario Maker may not be the most exciting Mario product to come out, but it's arguably the most innovative. Maker lets users create their own Super Mario levels and scenarios, even adding non-Mario characters like Zelda's Link to the gameplay, and creating some customized levels from programmers and Mario fanatics all over the world. 
According to E3, that can include anything in the Super Mario Bros., Super Mario Bros. 3, Super Mario World and New Super Mario Bros. U universes. Building everything with a Wii U GamePad, you can add enemies and obstacles anywhere on the map. Anyone who managed to beat the traditional Mario levels and then got bored will find unlimited potential to build new worlds for Nintendo's most famous plumber to explore.