Dominican Republic May Soon Deport Hundreds of Thousands of Haitians, and No One's Noticed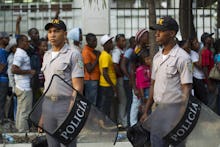 A terrifying act of "ethnic cleansing" may begin Wednesday just under 1,000 miles from the United States — and all while no one is really paying attention.
Somewhere between 50,000 and 250,000 black Dominicans of Haitian descent will likely have their legal residency revoked, after which they will be unceremoniously and forcefully shown the border between the Dominican Republic and Haiti. In a few days, one of the biggest mass displacements of civilians in recent history could begin in violation of international law.
Last year, the Dominican Republic Constitutional Court wiped out the citizenship rights of any Dominicans born to Haitian undocumented immigrants since 1929, regardless of whether they held a Dominican birth certificate. In doing so, the court essentially made them stateless persons.
As a slow but steadily approaching deadline for all those people to apply for legal residency expires Wednesday evening, the gears of a government plan to aggressively deport those descendants of Haitian immigrants out of their country have begun grinding.
The background: Dominican officials have stated there will be no mass deportations but have quietly prepared 12 buses and "opened processing centers along the border with Haiti to expedite repatriations," according to the Associated Press. Local reports suggest the government has already began rounding up dark-skinned citizens who appear Haitian.
Aid workers have told the Nation's Greg Grandin despite assurances anyone who's already registered for the legalization process will not be deported, they have met "dozens" of people who began applying up to nine months ago and still hadn't even received confirmation their paperwork was received.
Interior Minister Ramón Fadul recently acknowledged out of 250,000 applications, just 10,000 met requirements and only 300 residency permits have been handed out, reports the Guardian. The Guardian also reported "2,000 police and military officers and 150 inspectors had received special training for deportations."
Evidence the government was soliciting bus contracts could therefore be considered "an extremely ominous sign," an aid worker told Grandin.
Yet there has been virtually no mainstream coverage of the brimming crisis in the Dominican Republic. It's not at though this is an unpredictable development; Dominican and Haitian nationalists have bred enmity between the two countries since the mid-19th century. Since 1937, when Dominican dictator Rafael Trujillo ordered a massacre of tens of thousands of black Haitians, the Dominican state has viewed dark-skinned residents as second-class citizens.
"Historically, Dominican politicians have deliberately created or exacerbated anti-Haitian sentiment among Dominicans as a means of 'othering' to further their political agendas," an aid worker named Arian told Ryot. "It is interesting to note that the looming implementation of this law tomorrow coincides with the launch of presidential, parliamentary, and municipal campaigns in advance of the 2016 elections."
International pressure could have helped to head off this campaign. But yet again, it looks like people are only paying attention now that terrible events of possible "ethnic cleansing" have been set in motion. It's yet more evidence that institutionalized racism isn't viewed as an urgent problem by the international community, despite its potential to do massive harm.