The Mother of Kalief Browder, Who Killed Himself in Solitary Confinement, Is Speaking Out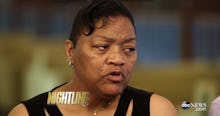 The mother of Kalief Browder, Venida Browder, is speaking out against what she said was the systemic failure of the United States justice system to protect her son, who committed suicide at her home earlier this month after a long period of incarceration at New York's Rikers Island Correctional Facility. 
In an interview with ABC News, Browder talked about the pain she continues to endure because of the ordeal.
Kalief Browder was originally arrested for stealing a backpack in New York in 2010. After a judge slapped him with charges of robbery, grand larceny and assault, his family was unable to afford the $3,000 bail, and he ended up spending three years behind bars at Rikers. At the time of his arrest, Browder was 16 years old. Years later, a New Yorker profile of Browder brought a swell of national attention. By that point, he had already made several unsuccessful suicide attempts.
The charges were ultimately dropped in 2013, but the three years a then 20-year-old Browder had lost were gone forever.
While he was incarcerated, Browder was also subjected to long stretches of solitary confinement, a practice both domestic and international critics have widely derided. Juan Méndez, a United Nations Special Rapporteur on torture, said solitary could amount to torture and should be outlawed worldwide in all but the most exceptional cases. 
This has been supported by growing scientific consensus that prisoners subjected to solitary confinement — like Kalief Browder — are eight times more likely to inflict self-harm and five times more likely to commit suicide than the overall prison population. 
More tragic still, of course, is that Browder was far from exceptional. In 2001, 1 in 6 black men nationwide had been incarcerated, according to the NAACP. With criminal records, those men are released only to a world of few housing or employment opportunities. Even on Rikers, Browder was far from the worst case. Carlos Montero has spent most of the last seven years locked in the jail awaiting trial for his alleged role in a 2008 murder. Like Browder, Montero first went to the island as a teenager. 
Kalief Browder spent three years in prison awaiting a trial that never came on charges that never materialized. He was subjected to solitary confinement, despite a justice system that is supposed to assume innocence. According to his lawyer, Browder had been attending community college after his release and had a 3.5 GPA. 
"Prior to going to jail," Browder told HLN in 2013. "I never had any mental illnesses." 
June 17, 2015, 4:21 pm: This post has been updated.