The Story of How Adele Became Famous Will Make You Love Her Even More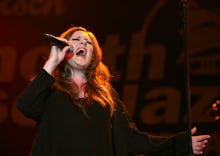 On June 9, the United Kingdom's Official Charts Company announced a major milestone for their resident soul singer, Adele: Her sophomore album, 21, is the best-selling U.K. record of the decade so far. That the record has earned such a distinct honor is not entirely surprising; after all, 21 spent an astonishing 23 weeks at No. 1 and to date has sold 4,751,000 copies in the U.K. That's especially amazing when you consider that the U.K. only has a population of 64 million — meaning that enough copies were sold that nearly 15% of the entire country could own the album.
In honor of this announcement, we look back at how Adele got her start, as well as the big ups and big downs that we have come to associate with the young musician's already legendary career.
Destined from birth: Adele was born Adele Adkins in 1988 in north London to a working-class mother and an estranged father. It was her young mother, who was only 18 when Adele was born, who encouraged the soul singer to test her limits and explore her creative side. From four years old, Adele had been obsessed with emotive voices, especially those of singers like Mary J. Blige, Lauryn Hill and Alicia Keys. But her real musical "awakening" came when she discovered Etta James and Ella Fitzgerald records at a thrift store.
"There was no musical heritage in our family," Adele told the Telegraph. "Chart music was all I ever knew. So when I listened to the Ettas and the Ellas, it sounds so cheesy, but it was like an awakening. I was like, oh, right, some people have proper longevity and are legends. I was so inspired that as a 15-year-old I was listening to music that had been made in the Forties. The idea that people might look back to my music in 50 years' time was a real spur to doing this."
Adele left public school at 14 to attend the BRIT performing arts school, where musicians like Leona Lewis and Amy Winehouse also honed their crafts. During her time at the BRIT, Adele uploaded three demos to her MySpace page — among them her first song, "Hometown Glory" — that caught the attention of London record label, XL. At 18 years old, and just six months after her graduation, Adele signed to XL and began her career.
Instant fame: In January 2008, Adele released her debut album, 19, and shortly thereafter, she won the prestigious Brit Critic's Choice Award. 19 saw nearly instant success in the U.K., debuting at No. 1 and helping its single, "Chasing Pavements," reach No. 2. But it wasn't until Adele signed a deal with American label Columbia, in summer 2008, that the album gained real momentum in the states.
"I had no specific plans for my album," the self-deprecating singer told Blues & Soul in 2008. "In fact, I STILL don't know exactly what kind of artist I want to be! You know, for me the album was just about making a record of songs to get a boy off my chest and include all the different kinds of music that I love."
In the fall of 2008, a series of serendipitous events helped Adele secure four Grammy nominations. She played on Saturday Night Live in October alongside host Sarah Palin, an episode that saw the show's highest ratings in 14 years. The Washington Post reported that within 24 hours of the SNL episode's airing, Adele's debut album hit No. 1 on iTunes. Coincidentally, that was also when Grammy voting wrapped up, and by December, Adele had her first Grammy noms. She won two of those come February 2009, among them best new artist. And like that, she was firmly established as a powerful force in the industry.
Career in jeopardy: After the massive success of her debut album, Adele was primed for a sophomore slump. But she was only just getting going. The wild success of the record took her on a victory lap of North America, but Adele's prospects came to a screeching halt during the summer of 2011, when she was forced to cancel the remainder of her tour due to laryngitis. After recovering and returning to the tour, Adele was again forced to cancel performances in the fall, after her vocal cord issues didn't clear up.
"Singing is literally my life," Adele said in a press release at the time, according to Rolling Stone. "It's my hobby, my love, my freedom and now my job. I have absolutely no choice but to recuperate properly and fully or I risk damaging my voice forever ... I will be back and I'm gonna smash the ball out of the park once I'm touring again."
In November 2011, the singer underwent vocal cord surgery, and Vogue wrote, "Has any pop star ever had a bigger year shackled to a bigger letdown?"
A return: That sickness precipitated Adele's relative scarceness for years. But it did little to stall the influence of her sophomore effort — in February 2012, Adele won six Grammys for 21, tying with Beyoncé for the most awards won in a single night. Like the cherry on a sundae, Adele was named one of Time's 100 Most Influential People of the year. Yet she hasn't released much new music of her own since, singing only the James Bond song, "Skyfall," which would earn her a tenth Grammy. Soon after, Adele gave birth to her first child. She's been on hiatus ever since, and has likely been working on her third album, but neither a name nor release date have been revealed. Rumor has it that it will come this year.
At only 27, Adele has achieved a rare but well-deserved legendary status among young female pop stars. It seems guaranteed that Adele will be, like her idols Etta James and Ella Fitzgerald, one of those musicians who people look back on 50 years from now.