Zendaya's Family Tree Is a Reminder Most Americans Have Something in Common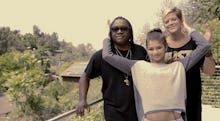 Singer and actress Zendaya says she literally has a timeline of history in her name. 
Between her German mother and her father, whose family roots stretch from Nigeria to Iceland and Macedonia, Zendaya Maree Stoermer Coleman says she's always been proud of her heritage, which comes spelled right out in her own multicultural name. 
"My mother's proud of where she's from and her history, and her past, and same with my dad," she says in a new video. "Like, I have roots from Africa and I have roots from Germany, and I'm just proud of that." 
America's roots: Zendaya's family tree mirrors that of many Americans, most of whom share one thing: Their back story includes the experience of coming to the United States as immigrants (voluntarily or not), usually reaching toward the ever-evolving American Dream. 
In the Welcome.us video commemorating June as Immigration Heritage Month, Zendaya and her family join others who have shared the story of how they became Americans. But the point is that the American Dream lives on in those of us whose families can be traced back before settlers ever arrived here, just as it can for those of us who are new to the country. 
The range of origin stories shared with Welcome.us tell us what Americans look like: 
Stories of sacrifice 
Devious Maids actress Dania Ramirez shared her family's story of coming from the Dominican Republic, and the sacrifices her parents made to ensure she and her siblings were able to gain an education in the U.S. 
Stories of slavery 
Miami: Kendra & Johlinda
Stories of staying connected 
New Orleans: Samantha (Haitian) & Manali (Indian) 
Stories of survival 
Tucson, Arizona: Eric (Mexican, Aztec, Irish)  & Chee Hye (South Korean)
Stories of community 
Miami: Rocky (Israeli, Irish) and Hana (Kuwaiti, Colombian)
Stories of early America
Minneapolis: Lizzie (English) & Jessica (Sioux, Scottish, English)
Stories of freedom 
Lincoln, Nebraska: Mary (Polynesian) & VJ (Unknown)
For more, check out Welcome.us or share your immigrant story with #IHM2015 or #ImmigrantHeritageMonth.