Meet the Voice Behind Your New Favorite Hero from 'Inside Out' — And It's Not Amy Poehler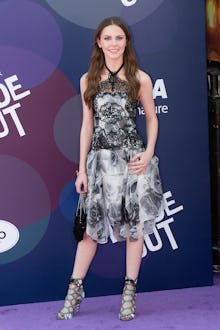 Amy Poehler and Mindy Kaling are making most of the headlines so far for Pixar's new sure-to-be hit Inside Out. In the film, they play two of the emotions living in the head of an 11-year-old girl. Yet there's another powerful female hero just waiting to be discovered among the voice cast — and her character is constantly on screen. In fact, you could say this character is, as the actress herself described her, more like the setting.
The character is Riley, the 11-year-old girl inside whose head the emotions dwell. The girl behind Riley is 16-year-old actress Kaitlyn Dias, a first-time voice actress. From her work on the film to her love of parkour, one thing is clear: Dias is no Disney princess.
Though Dias did two other live-action projects prior to Inside Out's release — a 2011 short called Burial and a 2013 feature film called The Shifting — she's been attached to Pixar's latest project since she was the same age as Riley. "Over the years, I had to make my voice sound a little bit younger," she told Mic. She first joined when the film was in storyboard stages, finally wrapping voice work when she was 14. 
The process was a bit longer than usual, but she was involved for a greater period than a star like Poehler or Kaling might be. "They were actually still rewriting the script as I was in the booth," she said. Since it was Dias' first time providing the voice to an animated character, and at such a young age, she had to learn as she went.
"I was sort of aware of what was gonna happen, but I had to learn on the job a little bit. When you're doing voiceover work, you put a lot more emotion into your voice than what you do on camera," she said. "Because all they have to work with is your voice."
"[Inside Out's creators] did a lot of research with psychologists to get really good ideas of how the mind works so they could more accurately portray it but still with artistic license."
Dias has seen the final product several times, calling the mix of creativity and execution "mind-blowing." Yet there's one portion of the film that sticks out to her as particularly special: a depiction of Riley's depression.
"She can't feel anything. She gets this idea stuck in her head and things just go haywire," Dias said. The result, albeit shown through a metaphor of five emotions manipulating a girl through a mission control in her brain, is impressively true to life, she said. "They actually did a lot of research with psychologists to get really good ideas of how the mind works so they could more accurately portray it, but still with artistic license," Dias said.
When not providing the voice of Riley, Dias gives new meaning to the term "badass." She practices parkour, a physical obstacle navigation exercise. How did a 16-year-old Pixar voice actress get involved with that? She watched American Ninja Warrior.
"I saw women doing it and I just wanted to be around those amazing women who weren't afraid to show up and totally kick some guys' butts," Dias said. Her pride in women kicking ass extends to the Marvel universe too. When asked who her favorite Marvel hero is, she knew her answer without thinking.
"Black Widow," she said without hesitation. "She's an amazing woman. She's totally willing to stand up for herself, and she's totally badass. She can hold her own." Dias is a supporter of Black Widow (and portrayer Scarlett Johansson) getting her own movie too — not one that looks like Saturday Night Live's "Black Widow: Age of Me."
At the rate she's going, Dias might be the one getting a superhero movie of her own soon enough. Though she's switched to homeschooling recently, owing to timing conflicts created by Inside Out, Dias said she's planning on sticking with her new career for the long run.
"Acting is something I've really connected with, and something I just totally enjoy," she said. "I'm living my dream job. Who would want to stop?"