You Won't Believe These 20 Award-Winning Photos Were Taken on an iPhone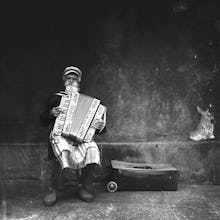 Beautiful photography is often thought to require deluxe equipment — thousand-dollar lenses, sophisticated cameras, complicated editing software. But sometimes all you need is an iPhone and a good eye to produce a stunning shot.
Case in point: the winners of this year's iPhone Photography Awards, who came from more than 120 different countries and competed in 20 categories, including animals, food and people. The competition has been around since 2007, when the first iPhone was released, and has very few rules: The images must be taken on an iPhone, iPod or iPad, and they can't be altered using desktop programs like Photoshop (so, app with filters are OK). The jury then examines each entry based on "artistic merit, originality, subject and style."
After scrolling through the winning shots, it was hard to believe they were all taken using a device many of us hold in our pockets.
"This year's entries were especially impressive ranging from intimate, thought-provoking moments to stunning, captivating imagery," Kenan Aktulun, the competition's creator, said in a press release. "We'd like to congratulate all of our winners who once again showed the ability of the iPhone to take astonishing photographs."
Below are the first-place winners in each category:
Photographer of the Year: Micha? Koralewski, Kozieg?owy, Poland
"His face was the first thing I noticed, so expressive and beautiful in its own way. It was like an open book. You could almost read his life story from the wrinkles." 
Abstract: Ben Schuyler, Seattle, Washington
Animals: Sephi Bergerson, Goa, India
Architecture: Christian Frank, Stuttgart, Germany
Children: Jeremy Kern, Washington, D.C. 
"Children who are waiting to be seen were peeking through the window curious to get a glimpse of the foreign doctor teams [at a clinic in Haiti]. I had been playing with them through the window most of the day and decided to take a picture. I pointed the camera which was at waist-level and snapped. Although it took little planning, I think it is a beautiful image of these inquisitive kids."
Flowers: Amy Paterson, Cape Town, South Africa
"These are proteas, which is our national flower and a type of fynbos that has adapted to fire over millions of years. It's embraced fire as part of its ecology and many of these species would become extinct without it."
Food: Xu Lin, Qing Dao City, China
"This photo was taken in the middle of Yangtze River where people dry the fish they catch and transform them into delicious cuisine. Taking pictures is a daily routine to me — like a diary. I hope my pictures can let people see a different world."
Landscape: Chris Belcina, Cooper City, Florida
Lifestyle: Fabio Alvarez, Pichincha, Ecuador
Nature: Yvonne Naughton, La Conner, Washington 
"The photo was taken on one of my daily morning dog walks on Snee Oosh beach last October. It was a moody Pacific Northwest day with a thick fog lingering on the beach. There had been heavy dew overnight so the spiderwebs which covered rocks, logs and bushes shone like strands of diamonds." 
News/Events: Jesse Alkire, Chicago, Illinois
Others: Jose Luis Saez Martinez, Valencia, Spain
Panorama: Andre Malerba, Woodstock, Vermont
People: Song Han, Chengdu, China
"What inspires me most is the whole context of a city rather than a single scene. Taking photos with the iPhone makes it more convenient and flexible to observe and create."
Portrait: Daniele Colombera, Los Angeles, California
Seasons: Heather Goss, Grand Haven, Michigan
"Over 12 feet of snow for the season and Lake Michigan iced over all the way across to Chicago. I spent a lot of time riding along the frozen shores of Lake MI in the brutal cold to admire the beauty of it all.The Grand Haven pier is one of my stops along the shore."
Still Life: Cindy Buske, Lynnwood, Washington
Sunset: Robert Radesic, Pula, Croatia
Travel: Ahmed Saeed, Cairo, Egypt
"In December 2014, a friend and I spent a few days in Aswan's Nubian village Gharb Sehel. It's a beautiful place with colorful houses, kind warm people and mesmerizing views of the Nile. We were exploring the outskirts of the village when I stumbled upon this one of so many beautiful houses."
Trees: Ruairidh McGlynn, Edinburgh, United Kingdom
Check out a full list of the winners here.