This Clever "Texting" Staircase Will Save Us From Ourselves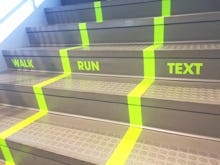 This is what it's come to, people.
It looks like all those vows to crack down on our "texting while walking" habits aren't going too well, at least Utah Valley University, where a Student Life and Wellness Center staircase has recently been decorated with a "texting lane."
The lanes, which a student posting on Imgur said were added about a month ago, are actually more of a quirky design project than a real traffic pattern (otherwise, where would the lanes for descending students be?). 
In a press statement sent to Mic, UVU creative director Matt Bambrough explained, "The concept came from our creative services team to help brand the Student Life and Wellness Center, and to add more functionality to the building." He added, "This graphic is obviously more aesthetic than functional, and through watching people take these stairs, most people don't obey the posted lanes."
The lanes speak volumes about the American texting-while-walking epidemic that is hardly exclusive to college kids. More than 1,500 people were treated in emergency rooms for texting while walking back in 2010, a figure likely caused by the scientifically proven (!) issues with balance and direction that typing while walking presents.
Safety aside, the lanes' mere existence is clearly a commentary on how we make our way through the world today, necks craned downward instead of upward or even to our sides, talking to other IRL humans — which makes the stairs either the funniest or most depressing symbol of our modern era. 
Existential crisis aside, texting while walking is really annoying to fellow pedestrians who often just want to make their way up the damn stairs. 
"We have had some great feedback," Bambrough said of the new staircase design.
We understand why.