Here Are the 7 Apps Modern Muslims Use to Celebrate Ramadan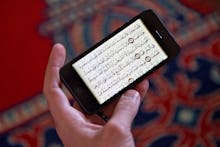 This week marks the start of Ramadan, a time when more than 1 billion Muslims around the world will fast for the ninth month of the Islamic calendar. The period can be a lot to keep track of — the daily prayers, the exact time for each one — but what if you could get a push notification for sunset or a set of digital beads with which to count prayers?
Luckily, there are a number of apps and digital services designed to help make a smartphone a tool for staying on track throughout the holy season. Sure, times for introspection and deep meditative reflection are usually the perfect opportunity to put down your phone. But if you're staying wired over the coming weeks, why not put it to good use?
These apps are specifically designed to get you from here to Eid al-Fitr, the breaking of the fast.
1. Muslim Pro
By far the most popular of the bunch, Muslim Pro has hundreds of positive reviews and regular updates. Muslim Pro has the usual amenities for an Islam-oriented app — a calendar, times for each prayer — but also has tools to help find the closest mosque and halal joint.
Despite the name "Pro," the app is free, though frustrated reviewers say the ads aren't a great supplement to prayer.
2. iPray
The app iPray is a prayer timer and compass that finds your location, uses the compass to locate the Qibla, or the direction of prayer, and sends you push notifications for prayer times.
It costs $3.99, but even though it hasn't been updated since 2013 — it was one of the first prayer trackers of its kind — it still has rave reviews in the past few months from loyal, daily users.
3. Athan Pro
Athan Pro is a prayer timer with customizable wallpapers, geolocation and a compass to find the Qibla. It has a Hadith of the Day, sounds to supplement the call to prayer, and a section of the app to stream a group of Islamic TV stations.
Athan Pro also has a section with a Tasbeeh feature, which simulates a set of prayer beads for counting out prayers. But above the other apps, it's incredibly sleek — on par with what an Apple default app like Weather would look like.
4. iQuran
Plenty of apps have built-in Qurans, prayers and readings, but iQuran boasts the best reading experience on mobile, with glowing reviews on the App Store. It's optimized for retina displays, has customization options for background and font size and features audio controls for read-aloud sound.
And because 23% of the planet is Islamic, iQuran has the text available in 38 languages, and tapping a verse allows you to share with SMS, email, Twitter and Facebook.
The iQuran app costs $1.99, but there's an iQuran Light, with many of the same features, available for free.
5. Hisn al Muslim
Hisn al Muslim, or "Fortress of the Muslim," is a digital prayer pamphlet, a regular series of meditations and various prayers for different occasions.
The booklet is arranged with a pull-down tab with categories like "Home & Family," "Food & Drink, "Good Etiquette" and "Travel" to give you the right passage for your translation. There are audio samples to guide you through the prayer out loud.
6. Anashid
Anashid is like Spotify for religious chants. With Anashid, you can browse through a variety of reciters, choose albums of religious music, and download for storage on your phone.
Anashid is also made by Quanticapps, the makers of Athan Pro and a number of other easy-to-integrate apps for Muslims. Unfortunately, the apps can be ad-heavy if you don't pay $2.99.
7. Ramadan Legacy
Ramadan Legacy, which launched just in time for 2015's season, captures your personal and spiritual journey through the holy season. With Ramadan Legacy, you can set personal goals and milestones with some social integration to check in on friends.
It doesn't have years of history and regular use that the other apps do, but the design is bright and original, and has already been downloaded over 11,000 times in its brief availability.