Graphic Video Shows White Fairfield, Ohio, Officers Slamming Black Teens Outside Pool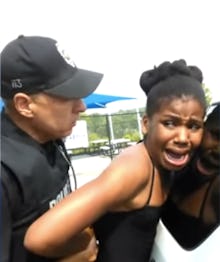 It happened again.
New video has emerged of a number of police officers aggressively responding to a disturbance at a local pool in Fairfield, Ohio, last week. During the video, one officer can be seen grabbing a 12-year-old girl by the neck and slamming her up against a police car as she screams. The police also used pepper spray against another teenager who can be heard saying, "You just maced me in my mouth."
According to reports, the altercation began after a minor violation of local rules quickly spun out of control. Krystal Dixon dropped off her children and nieces at the pool, but when one child didn't have a bathing suit, staff demanded the family leave. It was at that time the police were called and things spun out of control, the Cincinnati Enquirer reported. 
The girl seen being slammed against the car, apparently Dixon's niece, reportedly suffered a jaw fracture and broken ribs, according to local activist Bishop Bobby Hilton, who posted photos of the niece recovering at a hospital.
"Please tell me, where is she assaulting somebody? Why did the officer have to grab her by the neck and push her against the car? It's just not right," Hilton told the Daily Beast.
When it was over, two adults had been charged with disorderly conduct and resisting arrest, while the 12-year-old was charged with assault and another 15-year-old with disorderly conduct and resisting arrested, the Daily Beast reported.
After reviewing the video, Fairfield Mayor Steve Miller ultimately came down on the side of the police. "This is an unfortunate situation and our officers had a tough situation there. But I think they did a good job in showing restraint," he said, according to the Cincinnati Enquirer.
While the full facts of the case are still emerging, the video bears a striking similarity to the recent and more disturbing violence seen last week in McKinney, Texas. In both cases, a white officers responded to young blacks who had committed a minor violation of rules at a swimming pool. In both cases, officers appeared to use excessive force to restrain bathing suit-clad minors. In both cases, the force involved white officers targeting black females. 
Without a rush to judgement, it's probably safe to assume that officers shown in the video were in no real danger and could have handled the situation with far less force. While the situation was far from as bad as it could have been, we've all seen this kind of video enough to know where things could have led.