Lana Del Rey Is About to Return With This New Song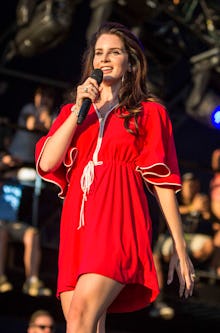 Ever since Lana Del Rey announced in January that she'd release her third album, Honeymoon, in September, her fans have waited eagerly for the first single to drop. That day is nearly here. On Tuesday, Del Rey posted a snippet of the single, "Honeymoon," on her Instagram account, and performed a bit of the song on her Endless Summer Tour stop that night in Florida. The stop also happened to be the final show of her tour, which means that the stars have aligned for a Del Rey single to drop. 
The video clip for "Honeymoon" looks like a throwback to her earlier, self-shot videos, like that of "Video Games." The video for her single "West Coast" was directed by Vincent Haycock, but "Honeymoon" could show Del Rey returning to her self-directorial roots. As far as the album goes, Honeymoon will be Del Rey's follow-up to her sophomore effort, Ultraviolence, and the third since her debut album, Born To Die. 
Based on the short clip of "Honeymoon," the song could be a Del Rey classic. Stay tuned for updates on the new single.