11 Things to Know About Hari Nef, the Kickass Trans Model Making Waves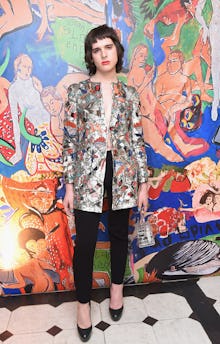 She's just 22. But Hari Nef, a transgender model on the rise, just had her first photo shoot with Vogue.com, mere weeks after signing with IMG Worldwide, a top modeling agency boasting the likes of Gisele Bundchen and Gigi Hadid on its roster. 
And while she looks beautiful in her portrait for Vogue.com, it's her interview that reminds us why Nef has captured the attention of designers and fans over the past year.
In her interview with Vogue, Nef touches on why she decided to begin modeling while transitioning and how for her, it's "not enough to be cute in a magazine," she said. "You have to talk."
So here are the 11 things you need to know about Nef, one of fashion's freshest faces.
1. She starred in an ad campaign for a genderless clothing store.
In March, London-based department store Selfridges unveiled a gender-neutral pop-up shop called Agender, a retail space full of unisex clothes with no demarcations for male or female shoppers. Hef starred in the video campaign, in which she vogued and danced through a sea of dancers to the tune of "He, She, Me," an exclusive song commissioned by Selfridges for the pop-up shop.
2. She attended Columbia University.
Nef's performance in the Agender campaign was a natural fit, given that she studied theater at Columbia University. Rather than referring to her as a model, Dazed and Confused calls Nef an "artist who refuses to draw lines between Tumblr and art, or club life and academia. Nef is captivating, radical and multi-talented: a cover model for Frische, performance artist and stage actress."
3. Going through her transition publicly was a "political" decision.
Nef began her modeling career while right in the midst of transitioning. In her Vogue.com interview, Nef says she could have hidden from the world for a few years while her transition finished, but she simply didn't want to, because visibility matters. 
"I wanted to be in the world," she told Vogue.com. "I'm not trying to self-aggrandize, but it's more than a job to me. It is political." 
4. She's frank about how transgender people are viewed and judged.
In an interview with the Coveteur, Nef dives deep into how transgender people are often stereotyped as "inauthentic" and theatrical, particularly when style is the focus. "People see trans style as presentational, hence inauthentic," she said in the interview. Clothing can often be a double-edged sword for trans women, as many expect a transition to come with stereotypically feminine style — dresses, earrings, makeup.
"Insisting on perhaps a more gender-ambiguous or barefaced or subtle femininity as a trans woman has opened me up to certain dangers and rejection," Nef told Vogue.com. 
On the flip side, the fashion industry also fixates on aesthetics, though its tastemakers are more into the androgynous side of things. Nef told Style.com:
"I don't think fashion is interested in trans issues. I can't think of many fashion institutions or artists who have addressed 'trans issues' by name, can you? How many openly transpeople are getting major work in the industry — models, designers, photographers? Can you count them on more than one hand? Fashion is having a moment with trans aesthetics, not trans issues."
5. She's friends with Laverne Cox and muses on Caitlyn Jenner's favorite fro-yo.
Nef is part of a bigger community of trans activists, including models Gisele Xtravaganza, Juliana Huxtable, Isis King and Mz DeSe Bae Escobar. And on her Tumblr just this week, Nef posted a selfie with Laverne Cox.
In her interview with Vogue.com, Nef confessed that she also wants to meet Caitlyn Jenner, who recently made headlines for making the cover of Vanity Fair. (Nef mused backstage with Vogue that Jenner's favorite flavor of frozen yogurt is probably peach.) 
6. She is playful and doesn't mind getting silly on set.
Nef's personality shouldn't come as a surprise (she did, after all, study theater). Her self-deprecating humor is on full display on her social media accounts.
7. She drops literary references.
The college graduate also isn't afraid to include references to classics like Mrs. Dalloway by Virginia Woolf. Because modeling and literature have a lot in common, right?
8. Being trans isn't the most interesting thing about her.
While Nef has embraced questions from media regarding her gender, she told Vogue.com that being trans isn't the most captivating aspect about her. "Gender is whatever," she said in the interview. There are plenty more things to talk about, places to go and people to see. Speaking of which... 
11. She understands her unique position and privilege.
Nef's honesty comes across in interviews. In an interview with Dazed, the model made clear how her story as a transgender woman is one of many untold stories in the world.
"As far as #trans goes, I'm easily understood. I'm white, I'm from a First World country, my identity as a woman aligns within a gender binary that most people take for granted," she told Dazed. "My hope for 2015 is not just that more trans stories are told, but different kinds as well."
10. She wants you to know that trans people are beautiful and strong.
"Trans folks are way too strong, beautiful, intelligent and powerful to stay unseen and unpaid for much longer. [My recent achievement] was a snowflake on the tip of an iceberg," she told Dazed.
11. She's eager to serve as a role model and inspiration to fans.
With her very public transition, Nef has embraced the opportunity in the spotlight to speak about transgender issues. On her Tumblr, she takes questions submitted by fans, including a young transgender woman in Iraq who is having difficulty conforming to her gender in high school. The girl's note, Nef shared with Vogue.com, read, "It's so lonely being the only person in my town who is trans. I am so thankful that I follow you and other girls on this site ... maybe I'm living vicariously through you a bit. You're so brave."