Neil Young's Manager Blasts Trump for Using Young's Song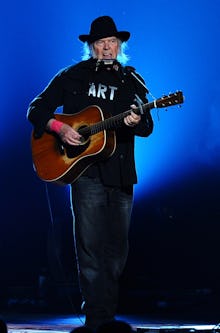 On Tuesday, after multibillionaire Donald Trump launched his campaign for president with the most entertaining and incomprehensible speech possible, he played some old-fashioned rock 'n' roll: Neil Young's "Rockin' in the Free World." The song felt extremely out of place in Trump Tower, not only because the sound engineer cued it before Trump was done, but because Young is extremely liberal. Meanwhile, Trump spent most of his speech calling Mexican immigrants rapists and universal health care beneficiaries liars.
Needless to say, Young was not happy.
In a statement shared with Mother Jones, Young's manager claimed Trump was "not authorized" to use the song. And he added the perfect kicker to clear up any confusion about Young's politics: "Mr. Young is a longtime supporter of [Vermont Sen.] Bernie Sanders."
It's baffling that Trump thought the song would fit his campaign. So much of Young's catalog is dedicated to tearing down big business and conservative agendas. His most recent album, The Monsanto Years, is filled to the brim with criticism for Walmart, Starbucks and Monsanto, all of which Young sees as exploitative businesses.
Though always a political writer, Young has been especially explicit in recent years. In 2006, he wrote a song called "Let's Impeach the President," blasting former President George W. Bush for lying to the country and entering into a war in Iraq. In his speech Tuesday, Trump seemed to argue that the U.S. ended that war too soon, because, as he put it, "now ISIS [the Islamic State group] has the oil."
A long tradition: Trump's appropriation of Young's song is no isolated incident. Politicians have been using ill-fitting songs from artists with divergent politics for years. According to MSNBC, Tom Petty insisted Bush stop using his hit "I Won't Back Down" in 2000, arguing it gave the "the impression that you and your campaign have been endorsed by Tom Petty, which is not true." Unfortunately, Petty and Young's type of public cease and desist seems to be the only weapon artists have. At least Young got to clarify his stance: Trump is a punk; Sanders for president.
Young's politics are indeed much more in line with the liberal Sanders. The artist and the politician both have made economic inequality, worker's rights and climate change fundamental tenets of their politics. Young dedicated himself to the environmental movement in 2008, turning a gas-guzzling 1959 Lincoln into a zero-emissions green vehicle. And Sanders was recently rated the No. 1 candidate on climate change issues. 
Perhaps it's time Trump listened to the things he's sharing. He might learn something.
h/t Mother Jones