The Most Amazing Ruby Rose Moments From Season 3 of 'Orange Is the New Black'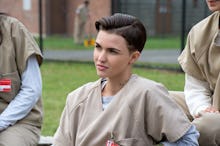 Litchfield Penitentiary got an extra dose of pure sex this season in the form of Stella Carlin. The new character, who shows up in the series' sixth episode, serves as a secondary love interest for Piper Chapman (Taylor Schilling). 
She also serves as many viewers' new favorite part of Orange Is the New Black, thanks to the appeal of gender-fluid actress Ruby Rose.
Ruby Rose's presence on OITNB's third season is important, largely because she's a queer woman playing a queer woman on TV, which is still a rarity. But Stella is winning over new fans with every episode they watch — which, considering she doesn't even appear until the season's sixth, requires the Australian actor to make the most of every moment.
Luckily, she's more than up for the task. Here are Stella's best five moments from the season.
Note: Spoilers ahead for the entire third season of Orange Is the New Black.
Her first appearance
It doesn't take long for Stella to start flirting with OITNB's protagonist. She comes after Piper for putting herself down, asking why a Betty like her insists on picking apart her personal appearance. Stella also indicates she's got liberal ideas of what gender is — a nod at her portrayer's own identity.
Her help with Piper's scheme
Piper's main storyline this season is about a new business she starts. The idea is simple, if rancid: She uses Litchfield's leftover fabric to make pairs of panties, has inmates wear them for a short time and then sells them to men. Stella, to her surprise, helps out by wearing a pair of the panties. Her knowing wink at a flushed Piper at the end of episode seven is a sight to behold.
Her shower scene
On a show like OITNB, a nude scene is practically inevitable. Yet as Piper notes, Stella's comfort in her own skin makes her so much sexier than just bare breasts ever could. Also quite attractive: Stella's support of Piper's business endeavor. "Tomorrow's Fortune 500," she tells Piper. "Sisters are doing it for themselves."
"You're too young to know that song," Piper points out.
"What song?" Stella replies. It's adorable banter — enough to stop making you root for Piper and Alex.
When she gives Piper a tattoo
In an intimate moment, Stella gives Piper a tattoo that reads "Trust no bitch" instead of Piper's own request — an infinity symbol. When it hurts too much, Stella tells her to own the pain. It's an intense scene that leads to Piper telling Stella how much she's going to miss her. What Stella doesn't realize at the time is how much that tattoo will come back to bite her in the ass.
When Piper trusts no bitch
In the finale of season three, Piper discovers that funds from her business venture are missing. She tries to suss out the culprit, but soon realizes it's either one of her lovers, Alex or Stella. Sadly for their up-and-coming love, it's Stella, who's set to get out of prison and needs money.
"You fucked me, Stella!" Piper says, venom dripping from her voice. "You decided to steal from me?"
She's furious, but she doesn't let her emotions get in the way. Instead, Piper plants several items of contraband around Stella's bunk, including cigarettes and a shiv. It's enough to get her sent to maximum security lockup. When Stella tries to process how all the contraband got there, she realizes she gave Piper the most ironic tattoo of all.
As Boo (Lea DeLaria) says, "Damn, Chapman. That is some stone-cold shit."
There's an important moral for OITNB fans and future Litchfield inmates here. You can be as cunning, beautiful and beloved as Ruby Rose, but you cannot fuck over Piper Chapman.