Dive Into the Online 'Shark Tank' Where Amateur Investors Are Handing Out Money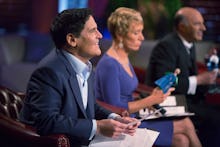 Every Friday night on ABC, filthy-rich venture capitalists spend 42 minutes getting to know a few small-town schmoes with wacky ideas and, often, thousands of dollars of debt. This, of course, is the global television phenomenon Shark Tank, where amateur entrepreneurs pitch their business propositions — children's doodads, farming tools, anything you can imagine — to billionaires. 
The "sharks" are all business geniuses: Dallas Mavericks owner Mark Cuban, FUBU founder and CEO Daymond John, venture capitalist Kevin O'Leary, real-estate tycoon Barbara Corcoran, tech CEO Robert Herjavec and inventor Lori Greiner, who once sold 2 million sponges in a single day on QVC. Sometimes their investments skyrocket a company into a 30-country distribution deal. Sometimes a company tanks. But without fail, Shark Tank pulls in millions of viewers every week. 
And now a group of Internet weirdos wants in on the action.
A redditor named evolutionaryflow, who works as a social media marketer, created /r/redditsharktank as an investment opportunity catch-all, instigating crowdfunding and group buyouts of startups anyone can present in the forum.
"I have experience in creating my own startups and have dabbled in funding other startups, but I've never had the capital to do the bigger projects and opportunities that I wanted to," evolutionaryflow told Mic. "I started the sub as a way for redditors to organize and pool together resources to crowdfund and group-buy," with special consideration for the opportunities aspiring VCs can't afford to invest in alone. 
The community is still young; it launched June 7. Ten days later, it had 18 threads and more than 300 subscribers interested in investing or getting a project funded. Right now the projects are small, many still in the conceptual stage. Theoretical convenience apps feature tag lines such as "makes finding local events not suck" and "mass communication done easy" and "ketchup and mustard in the same bottle." 
But not everything is condiments and hyper-specific party calendars. Kai Kau, a Honolulu-based developer who goes by the user name articulite on Reddit, came to the online shark tank with his virtual reality image-hosting program VRCHIVE, where users can upload 360-degree images of, say, video game environments or inside views of structures at Burning Man. ("We're trying to build the 'street view' of the metaverse," Kau told Civil Beat in May. "Three-dimensional VR is the future of the Internet.")
It's currently in the early stages of funding, but he's looking for investors — in the $50,000-plus hemisphere — anywhere he can. Naturally, he turned to Reddit, whose culture has traditionally been friendly to crowdfunding.
Unlike the real Shark Tank, evolutionaryflow won't cut people down if he doesn't like their propositions. There is no Kevin O'Leary "you're dead to me" cutdown or made-for-TV drama. Mostly because the subreddit stands as a pillar of positive reinforcement and mutual benefit — not a means of selling commercial time. "I just want to see a big brainstorm [and] networking cauldron on this subreddit," evolutionaryflow told Mic. "Hopefully it connects the right investors to the right companies and helps manifest both parties' dreams and interests."
In an early episode of Shark Tank, a man named Joe Moore introduced First Defense Nasal Screens, a hypo-allergenic, self-adhering nasal filter to the sharks. Before presenting his product, the tiny, sticky screens had already snagged an $8 million order from an investor in the United Arab Emirates. By the end of the episode, Moore pulled a $750,000 investment from the sharks. Moore still owns 70% of his company — a feat that inspired evolutionaryflow to create the subreddit in the first place. 
"That is what I hope to accomplish here, maybe on a smaller scale, just innovators finding funding through their peers," he said. "I think that in some instances, crowdfunding can help a company much more than a couple angel investors because of the potentially wide and diverse connections and support of the crowd."
The sub may not be a massive, burgeoning collective of high-level investors delving into a sea of ready-to-build companies yet, but like the Shark Tank businesses themselves, everything has to start somewhere.