A New Ruling Could Turn Uber Drivers Into Full Time Employees — And Cripple the Company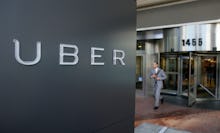 The California Labor Commission has ruled the ride-share app Uber must treat a driver in California as an employee rather than an independent contractor, Reuters reported. 
The commission ruling filed Tuesday through a state court in San Francisco came after driver Barbara Ann Berwick filed suit against the company.
If the ruling stands, the decision could eventually result in drastic cuts to Uber's vaunted fleet of drivers, changes that might also force consumers to look at alternatives if the company can no longer meet quick expectations. One of Uber's biggest advantages, especially in large cities, is the easy access to a massive supply of drivers. However, if the service's fleet is downsized, that advantage might falter.
That could result in a boom for traditional taxicabs, who have taken the biggest hit as a result of Uber's growing market presence. A 2014 Time headline declared traditional taxis in San Francisco "pretty much destroyed," thanks to Uber's rise. 
The current business model: Presently, Uber maintains roughly 1,000 employees in their San Francisco headquarters, while their approximately 1 million drivers around the world are classified as independent contractors. 
Uber's business model relies on this distinction, as workers classified as contractors are cheaper to employ. If Uber's drivers are classified as employees, it would force the company to begin paying costly Social Security and Medicare taxes to the U.S. federal government, something the company can avoid by employing independent contractors, according to the IRS.
The ultra-lightweight non-employee-employee model had been one of the reasons for Uber's staggering success in recent years. The company was valued at $50 billion earlier this year. Uber has vowed to appeal the ruling which, even if it is upheld, would only apply to their drivers in California. 
"The California Labor Commission's ruling is non-binding and applies to a single driver," an Uber representative told Mic in a statement, adding:  
"Indeed, it is contrary to a previous ruling by the same commission, which concluded in 2012 that the driver 'performed services as an independent contractor, and not as a bona fide employee.' Five other states have also come to the same conclusion. It's important to remember that the No. 1 reason drivers choose to use Uber is because they have complete flexibility and control. The majority of them can and do choose to earn their living from multiple sources, including other ride-sharing companies. We have appealed this ruling."
California is Uber's largest market and even if the changes are confined only to that state, the company will still take a major hit. The first effects would come against its vaunted fleet of drivers, which would almost certainly be reduced should they all receive official classification as employees. 
From a worker perspective, it would result in a devil's lottery where Uber would be forced to fire potentially thousands of drivers, but those who remained would be given better benefits as full-time employees than under the current system. 
Whether the ruling will ultimately become a milestone of worker's rights or a job-killer remains to be seen. Appeals will likely keep the final resolution bottled up for years. Should other areas of the United States take a similar approach, however, the company known as Uber may become very different in the years ahead.
Read the full ruling below.
June 17, 2015, 4:43 pm: This post has been updated.