The One Quote That Shows Just How Powerful Kendrick Lamar's Legacy Will Be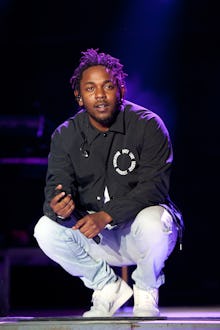 Visionary rapper Kendrick Lamar is only just getting started. In his brief reign as the King of the West he's been unbelievably dominant. He's shown how freestyling is done with infamous "Control" verse, and he's earned Grammys, broken streaming records and, with his most recent release, helped resurrect jazz as a vital art form. The Compton MC did all of this before, on Wednesday, he turned 28-years-old.
Lamar is on his way to leaving a huge legacy in hip-hop. Already, it's possible to see what his impact will be. In an April interview with Mass Appeal, Lamar shared how lofty his goals are. This quote sums up the impact he's begun to have and one day hopes to realize fully:
Positivity: So much of Kendrick's music and actions are dedicated to supporting his community and encouraging listeners to reassess their values. He's donated large amounts to charity and gone out of his way to make himself visible for his most important fans — the youth.
In May, he was awarded California's 35th Senate District's Generational Icon award for his work supporting and motivating the state's youth. Earlier this June he visited a high school class in New Jersey that had been using his album To Pimp a Butterfly alongside Toni Morrison's The Bluest Eye to teach students about racial prejudice and the challenges involved in finding one's self-worth in a hostile society.
Lamar is constantly seeking ways to use his influence to uplift and inspire. "How can I use it? For better or for worse?" Lamar told MTV. "Money or celebrity, how can I use it? How can I pimp it? Can I pimp it negatively, or can I pimp it in a positive way? Positive for me is showing what I go through, what I've been through ... but that I still love myself at the end of the day."
A new Tupac: Lamar's concern with using his influence and voice to encourage peace and positivity puts him in the same league as his idol, Tupac.
Tupac was also hyper-conscious of the impact of his music and lyrics. Toward the end of his life he was also critical of the way the hip-hop community interpreted the "gangsta" attitude. A year before his death, he told MTV he found it tremendously irresponsible when rappers "talk about murder and death and you don't talk about the pain or you talk about killing and robbing and stealing and you don't talk about jail and death and betrayal and all things that go with it." He felt rappers should be doing more to try to "save" their listeners, not glorifying the violence and depravity of the gang-banging lifestyle.
Pac's birthday was Tuesday. The fact that two hip-hop's finest storytellers and most inspirational figures were born back-to-back, separated by only 16 years and a day, is as jaw-dropping as coincidences get. We'll see if Kendrick is up to building the same immortal legacy that Tupac did. All indications so far suggest that he will.