This Artist Is Protesting The FDA's Gay Blood Ban In The Most Intense Way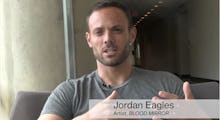 While LGBTQ people have made plenty of progress worth celebrating during Pride this month, discrimination against this community still persists. One notable form that's legally enforced is the U.S. Food & Drug Administration's guidelines prohibiting transgender women and cisgender men who have had sex with men from donating blood since 1983, based on outdated stereotypes conflating their sexuality with their HIV status. While the organization in May officially recommended a new policy that would allow these men to donate blood, it requires that have refrained from having sex with men for a full year before donation.
Plenty have spoken out against and protested this ban, but artist Jordan Eagles hopes to shed light on this insulting and ultimately detrimental assumption in a truly unique way with a stunning and inventive new work. Eagles created a sculpture, called Blood Mirror, that contains the blood of nine queer men. The installation will be on view at the American University Museum at the Katzen Arts Center in Washington, D.C., this fall. 
Each man who contributed blood to this work approaches the ban from a unique perspective. There's the Nigerian gay rights activist in the U.S. on political asylum, the CEO of the Gay Men's Health Crisis, the 88-year-old openly gay priest and a man whose identical twin, a straight man, is eligible to donate, among others, Out reported Monday.
Filmmaker and activist Leo Herrera created a short documentary about Eagles' process and interviewed each individual who contributed their blood.
"This is a science issue as well as an equality issue," Kelsey Louie, CEO of the Gay Men's Health Crisis, said in the video. "We have the technology to identify HIV within a blood supply within nine days. One of the drivers of HIV is stigma. It's dangerous to public health."
Louie's observation is backed by fact: Nearly 2 million lives could be saved annually should the FDA lift the ban, according to a 2014 Williams Institute study, and technology exists to ensure this blood is safe. And yet the FDA has insisted on holding LGBTQ donors to different, discriminatory standards, effectively preventing sick individuals from becoming healthy — and serving up a healthy dose of reinforced stereotypes about and discriminatory attitudes toward LGBTQ individuals.
"I wanted to create a sculpture that would become a time capsule, documenting this moment in time, while showing that this blood could have been used to save lives," Eagles stated in a press release, according to Out. "This discriminatory policy is part of our gay history and part of our nation's history, and the sculpture asks us to reflect on discrimination in our country, as well as the homophobia that exists around the world." 
The proposed modification put forth by the FDA will be open for public comment until July 14, 2015. Perhaps individuals inspired by Blood Mirror will let the government know that discrimination should not be tolerated in this day and age — especially when its effects extend even beyond those it targets.
"For me, the sculpture is a work in progress," Eagles concluded in the press release. "It will never be finished until the FDA's blood donation policy is fair for all people."
h/t Slate