LA's City Council Just Voted to Let Police Crack Down On Its Most Vulnerable People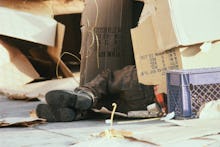 On Tuesday, the Los Angeles City Council voted to give preliminary approval to two ordinances that will make life for the city's growing homeless population considerably more difficult.
The ordinances make it far easier for the city to clear out homeless encampments and remove personal property that homeless people keep on sidewalks and city parks. They shorten the city's warning notice before confiscating personal property from 72 hours to 24 hours, and anything that cannot fit in a 60-gallon city trash receptacle can be taken without any notice at all, according to the Los Angeles Times. The city would store the belongings for 90 days before throwing them away.
The Times reports that violating the ordinance "will be punishable by citation or misdemeanor charges."
In other words, the city is taking aim at its growing homeless population through law enforcement, effectively criminalizing the lifestyle many need just to survive on its streets. It's a strategy that's common across the United States, and it has a poor track record.  
A homelessness problem: LA is currently experiencing both a major increase in prosperity and an uptick in the number of people who have been visibly shut out of the benefits. In the past two years, the homeless population has grown 12%, according to a census of the county's homeless population cited by the New York Times.
Due to the relative scarcity of overnight shelters compared to other large cities with homeless populations, like New York, people who can't afford housing in LA are much more visible in city life. Without the risk of exposure during cold winter months, the homeless can live in the city's sunny public spaces more easily. City residents have complained that the homeless change the nature of those public spaces, making them less clean and safe, according to the LA Times.
So the city has taken a number of measures to make the lives of the homeless miserable in an effort to drive them out. The LA Times reports it employed something called the Safer Cities Initiative, which involved targeting homeless people for violating quality-of-life statutes, and that it has also attempted to use confiscation of their property as a tool for discouragement. But those tactics haven't helped house the homeless population — or slow its growth.
"We spend $100 million on homelessness, and 85% of our response is law enforcement," Councilman Gil Cedillo, who voted against the ordinances, told the LA Times. "That tells us our strategy is not working." 
Housing works: There's one specific demographic among the homeless in LA that has fared a bit better recently: veterans.
Due to a federally coordinated initiative, homeless veterans in cities across the country are eligible for permanent supportive housing. The idea behind the program is that providing housing is the foremost priority when addressing homelessness, and that whatever other problems that ail those on the streets are more efficiently resolved when they're grounded in safe, stable housing. LA is participating in this initiative, and its efforts to provide housing for homeless veterans has caused their population to drop in size in the last couple of years. 
LA is better off devoting the kind of resources its providing for homeless veterans to its entire homeless population. It's more humane, and it's smart policy.