Wal-Mart Is Allegedly Hiding $76 Billion in Overseas Tax Havens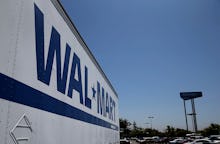 It turns out that Wal-Mart's slogan "Save money. Live better" might have a hidden meaning.
A report commissioned by progressive group Americans for Tax Fairness and researched by the United Food and Commercial Workers International Union claims that Wal-Mart Stores Inc. has hidden about $76 billion worth of assets in overseas tax havens.
Wait, $76 billion? According to the report, "at least 25 out of 27 (and perhaps all) of Wal-Mart's foreign operating companies" are held by shell companies or subsidiaries in tax havens. Wal-Mart's Luxembourg divisions own $64.2 billion in assets, while its companies in the Netherlands hold another $12.4 billion. Altogether, Americans for Tax Fairness claim 90% of Wal-Mart's international assets, or 37% of its total assets, are held in those two nations alone.
The sparse offices in those tax havens manage approximately 3,500 overseas stores. The report alleges that this technique earned Wal-Mart Stores Inc. an effective tax rate of less than 1% on $1.3 billion in profits from 2010 to 2013 in Luxembourg.
All told, the group claims these tax avoidance strategies have saved the company $3.5 billion in taxes. It also says in 2014, "Wal-Mart's tax-haven subsidiaries provided U.S. affiliates access to $2.4 billion in foreign earnings — in the form of low-interest, short-term loans — which may transgress U.S. law."
Wal-Mart denies any wrongdoing: Wal-Mart spokesman Randy Hargrove told Mic via phone the $76 billion total is "an incorrect, inflated figure," but refused to elaborate on the allegations. When asked about their Luxembourg subsidiary, Hargrove confirmed Wal-Mart operated an office with staff there to "help facilitate our business operations in our international countries," but refused to provide any specific information about how many staff worked there.
"We disclosed these significant subsidiaries of the company in our 10k, and that complies by [U.S. Securities and Exchange Commussion] regulations," Hargrove said. "This is the same union-supported group that regularly issued flawed reports on Wal-Mart to promote their agenda rather than the facts."
Why you should care: Wal-Mart's tax-avoidance strategy may well turn out to be technically legal, but it shouldn't be. Bloomberg reports many of the tactics Wal-Mart uses to shield profits from taxation have drawn the ire of regulators and Organisation for Economic Co?operation and Development representatives who believe the international community should do more to challenge tax havens.
Ultimately, a recent International Monetary Fund report concluded these kind of corporate tactics will cost nations around the world close to a trillion dollars in long-run tax revenue:
More specifically, previous Americans for Tax Fairness reports have alleged that Wal-Mart compensates its employees so poorly that the government doles out billions in health care, nutrition assistance and other payments to support them. Other research has confirmed Wal-Mart workers disproportionately rely on government benefits to make ends meet.
So if the facts in this new report are true, Wal-Mart is essentially bilking the U.S. government from both ends. Average taxpayers wouldn't get away with this, so why should Wal-Mart?