7 Muslim Rappers Who Are Shattering Stereotypes About Islam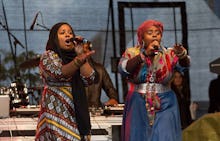 Ramadan is upon us, and Muslims around the world celebrate the month-long religious holiday through reflection, abstinence and fasting during the daylight hours. While those words are rarely associated with contemporary hip-hop and its indulgent reputation, several legendary hip-hop artists have spoken proudly about their Muslim faith.
Islam has a varied and complex relationship with popular music. While some interpretations of the Quran lead observers to believe music is sinful, many devout followers embrace and preach their faith through music, namely hip-hop. Here are seven of those artists.
Rakim
According to AllMusic, Rakim converted to Islam at 16. Many of his lyrics are informed by his Muslim faith and have influenced several contemporary Muslim rappers. The publication also notes that the hip-hop community largely considers Rakim the best emcee of all time, and in the late '80s, his work as half of the hip-hop duo Eric B. & Rakim cemented the rapper as a ground-breaking performer and recording artist. 
"I love what I live and I live Islam, so I applied it to everything I do," Rakim told the Final Call. "I applied it to my rhymes and I felt that I wanted the people to know what I knew. I felt that I was put here for that purpose and I just want to fulfill my legacy as far as being a conscious rapper and putting the word that I felt the streets needed to hear out there."
Brother Ali
According to NPR, Brother Ali converted at 15, and it totally changed the way he approached his craft. Minneapolis-based rapper, who is both legally blind and albino, is among the most outspoken hip-hop artists in the world about issues ranging from the Occupy Homes movement to Middle Eastern politics. One of his biggest influences growing up was Rakim, whose music inspired Ali to look into the religion. 
"In my old work, I was so ignorant to the hell that gay people are put through because they're deemed to be different," he told NPR. "I said the word 'faggot' in my first album, and I'm so thoroughly embarrassed by that now. I have gay friends and gay people I look up to."
While he still includes profanity on his albums (swearing is often considered sinful by Muslims), Ali says that's part of his artistry. "Everything in Islam is an act of worship — everything good and pure and genuine you do is an act of worship," he said. "I believe being the best artist I can be translates to being the most honest artist I can be."
Poetic Pilgrimage
Rappers Muneera Williams and Sukina Owen-Douglas make up the London-based hip-hop duo Poetic Pilgrimage. According to Huffington Post, the women met during college and both converted to Islam after learning of The Autobiography of Malcolm X in class. Their goal as rappers is to show that Islam and Western culture aren't incompatible, and that women have a place both in rap and as outspoken members of the Muslim community. They wear hijabs onstage, and have met their fair share of criticism, but that doesn't stop them from making music.
"Hip-hop began as the voice of the underdog," Owen-Douglas told the Huffington Post. "The voice of the ones whose story is never told, of those who are spoken about but not spoken to."
Mos Def
Hip-hop legend and actor Mos Def, also known as Yasiin Bey, was introduced to Islam at 13 by his father, who was a member of the Nation of Islam. At 19, Mos Def took his Shahada, or declaration of faith, and in the '90s debuted as an artist in the socially conscious movement hip-hop that emerged then. Many of his albums and live performances begin with the Islamic prayer, "Bismillah ar-Rahman ar-Raheem," or, "In the name of God, the most gracious, the most merciful."
The human rights advocate is famously quoted as saying, "If Islam's sole interest is the welfare of mankind, then Islam is the strongest advocate of human rights anywhere on Earth."
Lupe Fiasco
In a 2014 interview with Katie Couric, the TV host asked Lupe Fiasco, a Chicago-based rapper best known for his 2006 single, "Kick, Push," if he found it "challenging to be a Muslim and a rapper," according to BET. 
"It just depends on who you put yourself around," he replied. "I'll see friends who smoke and unfortunately some friends who drink, and some other things that we're not supposed to be seeing or doing ... [but] I try not to [judge] anybody [in] any capacity. My fellow Muslims, non-Muslims, Christians, whomever. At the end of the day we're human, we have faults, we make mistakes."
Q-Tip
A Tribe Called Quest MC Q-Tip converted to Islam in 1996, and after taking Shahada, changed his name from Jonathan Davis to Kamaal Ibn John Fareed. He's practiced the faith ever since. "I think everyone should just be allowed to believe what they want to believe, as long as they don't transgress against the next person," he told the Guardian. "It doesn't make a difference what you are. I read the Quran and it appealed to me. At the time I was agnostic and it really breathed spiritually back into me. For me it's really a cushion, it's cool, I'm cool with it."
Freeway
Before rapper Freeway signed to Jay Z's Roc-a-Fella Records in the early 2000's, he got his start in hip-hop with a hand from fellow Muslim rapper Beanie Sigel. A Philadelphia native, Freeway took Shahada at 14, and his faith has helped transform him from a rapper and drug dealer to a serious hip-hop artist.
"The fans can get more out of my music now because I have more of a message," he told CNN. "I'm more conscious about what I say now because in Islam we believe that you're going to be held accountable for everything that comes out your mouth."