This Instagram Account Will Make You Believe in Love and/or Just Want to Give Up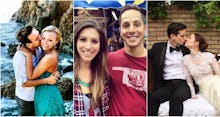 When it comes to super sappy public declarations of love, there is no in-between: You either find them heart-meltingly endearing, or they make you want to vomit all over an overpriced bouquet of pink roses.
With that said, prepare to have your day either made or destroyed as we present you with @thewaywemet:
"I met my boyfriend at a theatre. I was acting in a play and he was bartending. He's not just one in a million, he's once in a lifetime"
"I met my now fiancé at a YouTube event in Florida where we became good friends. A year or so passed and we saw each other again at another YouTube convention where I sarcastically told him to date me. He ended up taking it seriously! Last June he proposed to me on stage at yet ANOTHER YouTube event and now we are getting married in October. All of this because of our mutual love for uploading to YouTube!"
"I met my boyfriend Rick on the set of Millionaire Matchmaker. We were both cast to be on the show but were in separate groups because there was one male millionaire and one female millionaire looking for love. The male millionaire ended up choosing me for his master date, but I didn't feel a romantic connection with him at all. Long story short, Rick ended up contacting me after the show, and three years later he is still the man who makes me feel like a million bucks!"
All sappy, all sweet. And all supposedly true. 
The Instagram account was created two weeks ago, but it's quickly racked up more than 2,000 followers. The account's creator, Los Angeles resident Brooklyn Sherman, writes on her website, "I have always been a hopeless romantic who loves to talk about relationships."
It's a universal sentiment, one that's only easier to explore thanks to everyone's favorite partner, Internet. And that passion is evident in each @thewaywemet post, which come from random submissions Sherman curates to her taste. The goal, she told Cosmopolitan, is to showcase heartening success stories that inspire. "I realized there were too many great stories and I didn't wanna keep them to myself," she told the magazine. (Mic has reached out to Sherman for comment.)
"So I started the Instagram as a way to put these stories back into the world and give people hope that there is someone for everyone and you will find them!"
"I met my boyfriend on Halloween while I was walking down the street with a bunch of friends. I heard someone yelling the name of my costume and when I turned around, I saw him driving. He stopped the car and caused a huge traffic jam just to take my phone number. A month later I moved into his apartment. We've now been together for six years."
"We met in 2011 at the Florida International University Library the week before final exams. As you can imagine, the library was completely overcrowded; all the electrical outlets, extension cords, tables and chairs were taken. I saw Oscar sitting by himself at a table and asked if I could sit with him; the reality was that I needed to use the only outlet left in the entire library. I had a 10-page paper due in two days, and Oscar was finishing his project about Columbia National Security. I had a T-shirt on that said Colombian so Oscar thought to ask me for help, which sparked conversation. In order to not lose our spot, we took turns buying coffee and Oscar ordered pizza; our first dinner together was in the FIU library! Oscar proposed in 2014, but since he's in the military, we were married through the court. We plan to have an official ceremony this September."
Sherman's potential for even more interested followers may be big, considering that a recent Gallup poll reported that 64% of American adults aged 18 to 29 aren't in relationships. Maybe they don't want to be and need some inspiration, or maybe they do and are looking for some encouragement.
Either way, it's nice to know that those who are striving for picture-perfect #RelationshipGoals now have a place to go and feel inspired. Or nauseated.
It's really such a fine line.
h/t Cosmopolitan