There's a Shocking Amount of Child Porn on Social Media. This Man Stops It All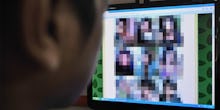 Last week, 100,000 instances of suspected child pornography were reported on 1,194 social networks across the Web. Photos depicting the sexual assault of teenagers and children were uploaded to sites like Facebook, Twitter, Dropbox and even LinkedIn. You likely didn't see a single one, and that's no accident — it's the handiwork of digital ninjas who scrub the Web of disturbing content, day in and day out.
This is the National Center for Missing and Exploited Children. Since 1998, when Clinton was president and social media was far from the global phenomenon it is today, the NCMEC's CyberTipline has hunted down child abuse in the digital world. Mic spoke with John Shehan, NCMEC's vice president of the Exploited Children Division, who estimated that his 50-person team has received 5.1 million reports of suspected child exploitation since the launch.
The sheer amount of material screened by Shehan is staggering. Since 2002, he told Mic, the CyberTipline Victim ID team has identified 46 million child abuse images or videos.
The NCMEC is just one of many organizations devoted to keeping the Internet clean of illegal content. Others include American companies like TaskUs, which tracks down offensive images and hate speech. But the CyberTipline team handles a different, more complex task: It spends each week reading reports from nearly 1,200 U.S.-based sites, flagging far more disturbing material. Then it makes information available to the FBI so that law enforcement can track down whoever produced or uploaded the images. Using that information, the FBI's Violent Crimes Against Children program has been successful in tracking and indicting child abuse criminals, with more than 40,000 arrests and convictions between 2001 and 2013.
The process: Anyone can report child abuse on the CyberTipline. When users fill out an online form and identify where an image came from, the CyberTipline team can evaluate the material, add related information to the report, use "publicly available search tools" to possibly determine where the act occurred and then turn everything over to appropriate law enforcement.
The world's biggest social networks depend on the service. "There is an enormous response from the industry," Shehan told Mic, referring to any company that allows video- or image-sharing. "They have a zero-tolerance policy when it comes to child abuse images, and they proactively choose to make sure they aren't hosting those materials."
In the U.S., companies are required by law to report images of child abuse to the CyberTipline, regardless of how old an image is or where it came from.
"This type of work isn't for everyone, but I can tell you that helping save a child from sexual abuse is one of the most rewarding careers possible."
The system that detects illegal images: When a site flags a photo as a possible offender, Shehan's crew tags it with a "hash value," a long series of numbers that can be archived and searched to make sure a known image doesn't keep floating around the Internet. "If you know the code, you know the image," he explained to Mic.
For the most disturbing material, Shehan says, the NCMEC has a hash-sharing initiative: lists dedicated to recording and tracking down the hash values of graphically sexual imagery online.
For example: "If a member of the public comes across a webpage hosting child pornography, and it's on a Facebook page, the company removes the content and adds it to their own hash lists," Shehan told Mic. "But if it fits our criteria ... we'll add that to our hash-sharing initiative. It keeps the images from circulating online for possibly many years."
But the Tipline isn't perfect: The NCMEC's system is great at catching and keeping obvious images of children offline. But it's less effective at identifying child porn featuring adolescents in their late teens, when they can resemble adults. What's more, some countries don't have the same cutoff for adulthood as the U.S.
When the Switzerland-based Reddit spinoff site Voat first reinstated the popular Reddit forum Jailbait, for example, the sidebar warned users not to post images of any minors under 16. "Do not post anyone under the assumed age of 16 fully nude," it read. "If they are younger, please post them with some key areas covered. This is done to protect Voat legally from Swiss law."
Moreover, most illegal material originates far from the States. Of the nearly 2 million reports Shehan has received in 2015, 90% of the uploads came from overseas but wound up on U.S.-based platforms.
The job can affect workers' mental health. Many studies detail the subtle effects mainstream porn can have on the brain, but viewing the sorts of dark images encountered by the CyberTipline can be dangerous.
Jake Swearingen, a former content moderator for the Bay Area startup VideoEgg, described to Wired the video of a beheading that caused him to quit working in the censorship field. "I didn't want to look back and say I became so blasé to watching people have these really horrible things happen to them that I'm ironic or jokey about it," said Swearingen, now a social media editor at Atlantic Media.
Viewing hate speech and graphic violence can eat away at your sanity. And for that, said Shehan, there's the Safeguard program, which includes on-site counselors and psycho-educational sessions, to "ensure mental health is always at the forefront," Shehan told Mic.
Shehan declined to speak about the personal effect his work has had on him, and he wouldn't allow interviews with any of his staff. "The content can be quite taxing mentally. ... This type of work isn't for everyone, but I can tell you that helping save a child from sexual abuse is one of the most rewarding careers possible," Shehan told Mic.
How to fight the problem: The CyberTipline's Victim ID team fights tooth and nail to keep users on Facebook and Twitter from witnessing the darkest parts of humanity. But it can't do it all alone. 
"Most people are not aware of this issue," Shehan told Mic. "A few years ago, the best thing to come out of To Catch a Predator was the awareness that these [abuses] are happening. The Internet is a fantastic tool, but there are people out there who want to share images of children and befriend children for the purpose of sexual exploitation. If you have information related to child exploitation, report it."