A New Kurt Cobain Documentary Claims He Was Murdered — And Courtney Love Is Not Happy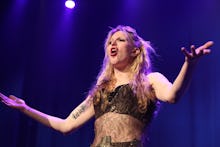 Since his death in 1994, Nirvana frontman Kurt Cobain has been the subject of innumerable documentaries, biographies and retrospectives. It's getting difficult to find new angles on rock's last great anti-hero, but not for lack of trying. Last week a new docudrama, Soaked in Bleach, premiered, and it focuses on the longstanding rumor that Cobain's death was no suicide — instead, it claims, he was murdered by his widow, Courtney Love. Needless to say, Love is not pleased.
It comes just a month and a half after the last major Cobain documentary, Kurt Cobain: Montage of Heck, which offered unparalleled insight and access into Kurt's personal life. But Soaked in Bleach seems to add little in the way of revolutionary material. Cobain's murder rumors have proved baseless time and time again, and yet they keep coming back. Love's attorneys have reached out to issue cease-and-desist letters to theaters showing the docudrama all over the country. But the filmmakers aren't backing down without a fight.
The battle: "The film falsely presents a widely and repeatedly debunked conspiracy theory that accuses Ms. Cobain of orchestrating the death of her husband Kurt Cobain," Love's attorney writes in the order. "A false accusation of criminal behavior is defamatory ... which entitles Ms. Cobain to both actual and presumed damages." 
The rumors Soaked in Bleach investigates have been thoroughly explored by police and previous filmmakers. The myth largely arose out of a 1999 Cobain documentary Kurt and Courtney, in which several people who distantly knew Cobain and Love, spiraled off vague accusations about Love's character. The Seattle police department also reopened Cobain's murder case in 2014, but found no new compelling evidence and again ruled it a suicide.
The filmmakers have ensured their voices are heard as well. "She obviously hoped to scare theater owners into dropping the film. Thankfully, very few were intimidated," the film's producers write in a statement issued to Deadspin. "Most saw the letter for what it is — a cowardly attack on the rights of free speech, free expression and free choice."
How to kill a rumor? What will keep people from seeing the film won't be Love's cease-and-desist letters, but the dismal reviews the film has received thus far. The entire documentary rides on the coattails of the wildly successful Montage of Heck, cashing in on the Cobain zeitgeist. The rumor that Love killed Cobain is an integral part of that tragic mystique.
The rumor may persist in the same way the "Yoko Ono broke up the Beatles" claim lives despite everyone's, including Paul McCartney's, claims to the contrary. Jezebel writer Julianne Escobedo Shepherd rightly points out the latent sexism driving rumors like these: "They function for grieving fans to take the onus and blame off a male hero and lay it all on his woman counterpart, playing nicely into the sexist archetype of the scheming, evil woman." By all official accounts, Love is innocent, but in the court of public opinion, she remains a menace.
Whatever the fate of Love and the film, it seems that now that we're rehashing rumors from the 90s, we may be finally approaching the Cobain saturation point. Hopefully, soon we can lay our rock star to rest and find some new musician's life to pick to pieces.
h/t Deadspin