Here's Why 4 Couples Are Filming Themselves Using Sex Toys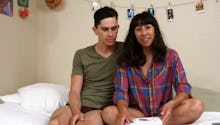 The best sex is always the realest. So why not get real about sex toys?
That's the idea behind Make Toytime Love Not Porn, the first-ever video sex toy reviews, created by MakeLoveNotPorn.tv and Refinery29. MakeLoveNotPorn, an online platform for real-life sex videos, is letting real-life couples test out sex toys and review them — and, yes, it's all caught on camera. 
"While written reviews of sex toys are a huge help when it comes to knowing what's new on the market, buying a new vibrator is akin to starting a new sexual relationship," Sarah Beall, curator for MakeLoveNotPorn, told Mic in an email. 
And that relationship should be curious, honest and totally shame-free.
Fun with toys: The MakeToytime Love Not Porn videos, unveiled earlier this month, let viewers along for the ride as couples test how certain toys are used and the kind of pleasure they deliver. After all, not all toys are created for the same purposes, Beall told Mic.
"You have to learn how to press the right buttons. You have to experiment with different settings before you'll hit on the one that works best for you ... like with any lover you really dig, you're not just going to give up after the first try," she said.
In Sal Marquez and Vivi Marie's review of the We-Vibe 4 Plus, the couple shows their toy being incorporated in oral sex, masturbation and intercourse — something you wouldn't have imagined by just looking at a box.
Most importantly, the videos are all about "partner play," with the couples figuring out how to use them together. The reviews are a great opportunity for more inexperienced couples to explore products in a safe space and encourage post-coital pillow talk about how it went. 
"For being a long-term couple, Colin and I are brand new to sex toys and really liked this toy's versatility," Grey said in the couple's review of the Tor2 by Lelo. "You can use it together or alone, on any part of the body and in the water."
The best part? The reviews get very frank. And funny. Valentine and Ember try out the FORM2 by JimmyJane and giggle throughout the video. In Beau and Flora's review of the Sharevibe by Fun Factory, the bullet's battery dies out in the middle of their play. When Colin and Gray review their cock ring vibrator, the couple fumbles with the power button and it accidentally turns off in the middle of sex.
"Like in any #realworldsex encounter there can be awkward moments, frustrating moments and moments that make you say, 'Yes, yes, yes!'" Beall said.
Embracing toys, sans stigmas: Videos like these are a fun reminder of how normalized sex toys have become. Two 2009 studies from Indiana University found that 53% of women and 45% of men ages 18 to 60 have used a vibrator before. Toys have also gotten increasingly sophisticated, with cock rings and vibrators that are Bluetooth-connected, rechargeable via USB, remote-controlled and iPhone-compatible.
That's where better reviews come in. YouTube videos and web comics are helpful, but MLNP's live, real-time reviews are as close to trying it yourself as you can get. After all, it's hard to tell what a vibrating cock ring will be like in bed unless you've actually seen one in action.
Beyond giving accurate reviews, Beall said, the point of the Make Toytime Love Not Porn project is to put consensual pleasure at the forefront and break down stigmas. Sex toy use and masturbation still remain taboo for many people, but the videos pull back the veil on sex toys to show what using them really includes — a lot of trial and error, experimentation and fun.
"We may not always get it right the first time around with a new toy," Beall said. "But boy, do we feel beautiful when [we are] in the throes of real pleasure. Nothing is hotter than that."