What We Know About Dylann Roof, the Charleston Shooting Suspect, So Far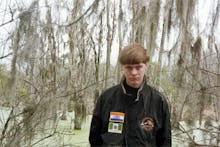 Dylann Roof, the 21-year-old official suspect for Wednesday night's church shooting in Charleston, South Carolina, has been captured by police in Shelby, North Carolina. Roof allegedly shot the attendees of a Bible study class at Emanuel African Methodist Episcopal Church, killing nine black people at the historically African-American church.
Here's what we know about the suspect so far: 
According to his Facebook page, Roof attended White Knoll High School in Lexington, South Carolina. He posted a picture of himself on his Facebook page in May, sporting a jacket with colonial flags — South Africa (on top) and Zimbabwe (on the bottom) — an allusion to when local blacks were subjugated by the ruling whites. 
It didn't take long for the Twitterati to notice the flags and weigh in on their political significance early Thursday.
Derrick Pearson, a presumed acquaintance, posted a picture of Roof leaning against a car and straddling a Confederate license plate — a post which was initially public but has since been made private. Pearson wrote below the picture of Roof, "jus got 20 more in five minutes...jus so there is NO CONFUSION..this is what u need to be on the lookout for..thats his car and him...NO i dont know where he is...N NO i dont talk to him ...Thanks."
 A post on the city of Charleston's Facebook page appealed to the public for information:
Sylvia Johnson, cousin of pastor Clementa Pinckney, who was murdered in the church, quoted a survivor who recounted Roof's words as he shot them: "I have to do it. You're raping our women and taking over the country. You have to go." The survivor described Roof reloading his gun five times in a row.
Roof was in part identified after his uncle, Carson Cowles, recognized him from the surveillance footage. "The more I look at him, the more I'm convinced, that's him," Cowles told Reuters. Cowles also said he believed that Roof received a gun for his birthday in April.
Roof was previously arrested on March 2 for possession of controlled substances, according to the Lexington County Solicitor's office. 
Despite the media's citing mental illness as a possible explanation for his action, Roof appears to have a profound hatred for black people. The Charleston Police Department is classifying the shooting as a "hate crime."
This article will be updated as more information becomes available.