President Obama Just Said What Everyone Was Thinking About Gun Violence in America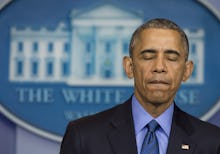 President Barack Obama on Thursday delivered a statement reacting to the mass shooting in a historically black church in Charleston, South Carolina, expressing "deep sorrow" over the killing of nine churchgoers by a 21-year-old white gunman.
"Any death of this sort is a tragedy, any shooting involving multiple victims is a tragedy," Obama said, with Vice President Joe Biden standing solemnly beside him. "There is something particularly heartbreaking about the death happening in a place in which we seek solace and we seek peace."
The most emotional part of Obama's statement came when he spoke to the broader problems that the shooting reflected: the United States' exceptional history of gun violence. 
"Once again, innocent people were killed in part because someone who wanted to inflict harm had no trouble getting their hands on a gun," he said.
"At some point we as a country will have to reckon with the fact that this type of mass violence doesn't happen in other advanced countries," he said. "It doesn't happen in other places with this type of frequency, and it is in our power to do something about it."
Obama's statement came soon after authorities apprehended the suspect, Dylann Storm Roof. He was apprehended by authorities during a traffic stop in Shelby, North Carolina, Thursday morning after a massive manhunt.
CBS's Mark Knoller notes one terribly depressing statistic:
Obama touched on this in his own remarks, saying, "I have had to make statements like this too many times."
The Department of Justice quickly announced that it's opening a hate crime investigation into the shooting. "The DOJ's Civil Rights Division, the FBI and the U.S. Attorney's Office are taking part in the investigation, which will work in conjunction with the state's investigation," reports the Huffington Post.
Speaking Thursday morning, U.S. Attorney General Loretta Lynch called the shooting a "barbaric crime," and promised, "We will do everything in our power to help heal this community and make it whole again."
Roof's Facebook profile includes a photo of him wearing a jacket pinned with flags from South Africa and Rhodesia (now Zimbabwe) during the era of apartheid.