16 Powerful Photos of Vigils for the Charleston Church Shooting Victims Around the US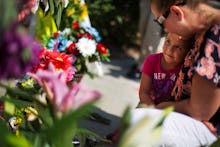 On Thursday, shock turned to grief as news of the massacre at a Charleston, South Carolina, black church continued to sink in. In the state and around the country, mourners gathered together to remember the nine people killed by 21-year-old suspected gunman Dylann Roof.
On Thursday morning, authorities in the state announced Roof had been captured.
Beyond serving as a way for Americans to come together, the vigils are a reminder of what's really important during times of tragedy. With images of the alleged shooter and intense media scrutiny of Roof's motives dominating television coverage, the nine victims have remained largely overlooked. Aside from the church pastor, Clementa Pinckney, who was also a prominent state senator, little to nothing is known about those whose lives were tragically cut short. Even less attention has been paid to survivors, like one 5-year-old girl whose life was only spared after she pretended to be dead.  
But many people are taking the time to remember those victims. Here are some of the powerful vigils happening around the country right now.