The Rock Will Make You Fall in Love with a Dumb Show About Football Bros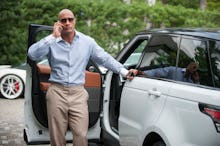 If there is one thing HBO loves, it's bros. Nerdy coding bros. Sleazy actor bros. Now, with Ballers premiering on Sunday, they're adding football bros to the roster. Bros are the backbone of their programming, and they're the bane of our existence.
But this most recent foray into the hard, complicated world of masculinity is different. Sure, the formula of the show is the same as any other show created by Steve Levinson, brainchild behind Entourage and the short-lived How to Make It in America. Ballers does not escape this vein of trite television that revolves around the "problems" of wealthy men. But a critical ingredient has been added: Dwayne "The Rock" Johnson, the people's champion.
In what is surely one of Johnson's greatest years, Ballers is the icing on the cake. His Saturday Night Live appearance in March was one of the most memorable in an otherwise lackluster season. Then he flexed his way out of a cast and into our hearts with Furious 7, which brought in $147 million on its opening weekend alone. We haven't even talked about San Andreas; having taken down Stone Cold Steve Austin and John Cena, natural disasters were the next worthy opponent.
After a seamless transition from the big ring to the big screen, Johnson's taking the next step: bringing his charm, muscles and million-dollar smile to our living rooms.
Ballers brings Johnson back into the world of football in Miami. In college, he played for the University of Miami Hurricanes, including the 1991 co-national championship team.
This time around, Johnson plays Spencer Strasmore, a former NFL linebacker who now works as a money manager for a new generation of fame-hungry players. Strasmore is the calm amidst the storm of young men with lots of money. He offers sage advice over booming speakers in clubs and standing next to sports cars worth more than a house. He is a father figure and confidant, despite the fact that his own finances are spiraling out of control.
The show is unafraid to use tropes expected from a Levinson show. In the opening scene of the series, a player in his prime learns too late that his beautiful side chick is — surprise! — a gold-digging psycho. When another young player catches some bad publicity, his girl hovers over him during a meeting to push her own agenda. And of course, there is the never-ending gratuitous sex.
Ballers combines the formula of Entourage with the seductive world of sports stars in half-hour, bite-sized portions. While the script has all of the sexism and bro proverbs (broverbs) one might expect ("If it drives, flies, floats or fucks, lease it."), you can't help but continue to watch the Rock. He completely transforms as Strasmore from an action star to a subdued has-been, juggling his own problems as he tries to fix the problems of his friends and clients.
Why is a dumb show about football this enjoyable? Maybe because Johnson officiated a fan's wedding. Maybe because he's a family man. It could even be that he has so much charm, people's days are made better when he crashes into their car.
More likely, it's easy to fall in love with this bro-centric mess because the Rock humanizes an otherwise unrelatable script. Strasmore is not a baller anymore. He is just another retired player desperately trying to hold onto his affluence and grappling with his fading relevance in the sports world.
I fell in love with this bro-centric mess because the Rock brings a humanizing aspect to an otherwise unrelatable script.
Is Ballers problematic? Yes. It wouldn't be surprising if its fan base largely intersects with the portion of the population who sends unsolicited dick pics. Is Johnson his usual flawless self? You bet. It is the Great One at his greatest.
HBO's lineup for dudes needed a smackdown to make them tolerable. The Rock had to be the one to bring it — and indeed he has.