The One Thing Missing From Bernie Sanders' Response to the Charleston Church Shooting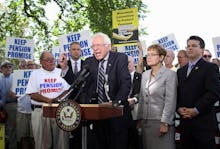 Democratic presidential contender Bernie Sanders is narrowing the gap on frontrunner Hillary Clinton in their primary race because he isn't afraid to speak his mind. The independent senator from Vermont has profited immensely from attacking Clinton for lacking either ideas or the political bravery to share them with voters. 
But in a series of comments responding to the shooting in Charleston, South Carolina, Sanders has neglected to address the role lax state and federal gun laws might have played in helping to put a deadly weapon in the hands of alleged killer, Dylann Storm Roof. Police say the 21-year-old fatally shot nine parishioners in Emanuel African Methodist Episcopal Church on Wednesday night.
"We do know that once again, innocent people were killed in part because someone who wanted to inflict harm had no trouble getting their hands on a gun," President Barack Obama said during live remarks on Thursday.
In an email to supporters Thursday afternoon, Sanders wrote forcefully about the murders, calling the attack "an act of terror" and making distinct reference to the obvious role of race in the alleged killer's actions. 
Earlier in the day, the Sanders campaign postponed a event scheduled for Saturday in Charleston and emailed a similar statement, saying, "The Charleston church killings are a tragic reminder of the ugly stain of racism that still taints our nation. This senseless violence fills me with outrage, disgust and a deep, deep sadness. The hateful killing of nine people praying inside a church is a horrific reminder that, while we have made significant progress in advancing civil rights in this country, we are far from eradicating racism."
What was missing: Absent in both are any mention or even subtle allusion to gun violence or control. Clinton, meanwhile, began a campaign speech in Las Vegas on Thursday with a blunt statement on the matter.
"How many people do we need to see cut down before we act?" she asked, according to Time, on stage to address the National Association of Latino Elected and Appointed Officials.
"So as we mourn and as our hearts break a little more, and as we send this message of solidarity that we will not forsake those who have been victimized by gun violence, this time we have to find answers together," Clinton said. "In the days ahead, we will again ask what led to this terrible tragedy and where we as a nation need to go. In order to make sense of it, we have to be honest. We have to face hard truths about race, violence, guns and division."
This was hardly a surprise. Clinton has been a staunch supporter of tighter gun control laws throughout her political career. Sanders' record is surprisingly opposite. The junior senator from Vermont has consistently voted against gun restrictions, including during his time in the House of Representatives, when he opposed the Brady Bill, a since-expired 1993 law that required background checks on buyers and waiting periods for their purchases. 
"On the issue of gun violence, he is particularly tight-lipped," Paul Heintz wrote on the Vermont alt-weekly Seven Days' Bernie Beat blog in March 2013. "Indeed, he refused to grant an interview to Seven Days on the subject for two and a half months after last December's deadly school shooting."
Vermont is home to a gun culture that has more in common with South Carolina than liberal patches like California and New York, which enforce harsh punishments for even modest violations of state law. That adds up to the rare moment when Clinton can easily position herself distinctly to the left of Sanders in their primary contest.
Sanders' campaign did not respond to a request for comment.