This Porn Star's Open Letter Sums Up the Sexist Double Standard Women Face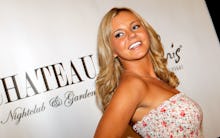 Former porn star Bree Olson is telling young women to stay away from the adult film industry — but not for the reasons you might expect.
In an open letter tweeted to her followers on Wednesday, the award-winning porn alum explained that no, she doesn't hate porn as an industry, and no, she didn't have any bad experiences during her work.
But she does have the following message for young women: If you do it, you will be judged according to society's harsh double standard when it comes to women and sex. Olson writes:
"To all the young women thinking about doing porn... Porn isn't bad — how people will treat you for the rest of your life is.
Some porn stars might take issue with Olson's general critique of the industry. But speaking from her personal experience, Olson's note is a reminder of the struggle many porn stars face during and after their careers: They're judged by friends, family and society at large — despite the fact that many of those doing the judging are likely consumers of the product.
But the broader point highlighted by the letter is the double standard women, not only porn stars, often face: Men are congratulated for their sexuality, while women are condemned for theirs.
The "slut/stud" dichotomy has been called out in pop culture time and time again. Earlier this month, pop star Ariana Grande was compelled to tweet her own open letter calling it out, passionately writing, "If a woman even talk about sex openly... she is shamed! But if a man talks or raps freely about all the women he's had... he is regaled." It's the same double standard that creeps in when women feel sheepish about providing condoms, or hesitant to demand (or even seek out) an orgasm.
Even in porn, Olson points out, an arena in which women's sexuality is more out in the open than anywhere else, the double standards still persist.
Perhaps if this gets called out consistently enough, one tweet-cum-open-letter at a time, its prevalence won't be felt quite so acutely by so many women.