One Tweet Exposes the Racist Hypocrisy of American Police Violence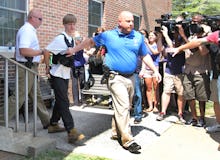 On Thursday, the nation woke up to the tragedy of Dylann Roof's shooting of nine black people the night before, during a Bible study at Emanuel African Methodist Episcopal Church in Charleston, South Carolina. Local police described it as a "hate crime" in a press conference at dawn. 
Among the flurry of Twitter reactions, one stood out, as it perfectly captured the double standard in the way police officers treat black and white Americans.
Eric Garner, pictured on the right, was stopped by police for selling loose cigarettes in Staten Island, New York, on July 17, 2014. Even though Garner was not violent, nor harming anyone before police stopped him, the situation quickly escalated to four officers tackling him to the ground, mounting him and one placing him in an illegal chokehold. He ultimately died, after informing officers repeatedly that he could not breathe. The police officer who placed him in the chokehold was ultimately not indicted at all, not even with manslaughter.
However, the footage of the police handling Dylann Roof, the man who allegedly shot and killed nine black people in a cold-blooded hate crime, shows several officers handling him respectfully and in accordance with the law, even protecting him from the media and providing him with a bulletproof vest lest he be targeted. 
Troubled race relations, particularly between white police officers and black citizens, have percolated in the last couple of years after repeated incidents of police brutality. What reinforces the marginalization of the African-American community is the lack of a accountability. Until black and white Americans are treated equally by the police and in the way the media reports on different demographics, the country will be locked in stasis, unable to move forward and free itself from the racist shackles of the past.