This Charleston Newspaper Had Perfect Response to the Charleston Church Massacre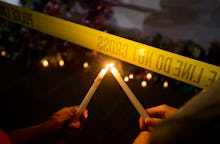 On Friday, the country continued to mourn the dead from the racially motivated massacre at a black Charleston, South Carolina, church Wednesday night. Coverage began with a manhunt for the killer, then transitioned into prayer vigils and calls for healing.
Americans, however, awoke to starkly competing media narratives Friday morning from newspapers around the country as editors and news directors struggled with how best to frame a senseless tragedy.
One paper that knocked it out of the park was Charleston's own Post and Courier, whose cover perfectly captured what everyone should really be talking about.
The powerful front page featured all nine victims prominently just below the masthead and accurately captured the grief of the community. Most telling of all, the gunman was nowhere to be found. 
While the dignified Post and Courier approach may seem obvious, many other papers around the country felt the true focus of the story should center on other things.
Focusing on the gunman isn't necessarily wrong. As the man who is accused of committing the massacre, he will always be a central part of the story. His story and motives, however, will be given a full airing when he is brought to trial. If the recent experience of the Boston bomber is any guide, it will likely be extended and painful. The shooter's constitutionally protected right ensures America will have to relive this terrible week down the road.
There won't be another moment, however, for people like Cynthia Hurd, a 54-year-old Charleston library employee, or Tywanza Sanders, a 26-year-old recent college graduate, or Ethel Lee Lance, a 70-year-old grandmother. On a national scale, they and the six other lives ended on Wednesday night have only the present to be remembered. When the massacre does ultimately fade from headlines, so too will their stories.
Their names: Ethel Lance, Susie Jackson, Sharonda Coleman-Singleton, Cynthia Hurd, Rev. Clementa Pinckney, Tywanza Sanders, Depayne Middleton-Doctor, Myra Thompson, Rev. Daniel Simmons Sr.